Employee Spotlights
Our people are our greatest asset at Pecan Deluxe. We value all of our employees, and we wanted to shed a light on a few of the things that make them so great. Take a look at our Employee Spotlights and meet the folks that make Pecan Deluxe great! 
Our Pecan Deluxe Family
Employee Benefits
In return for employee loyalty and dedication, Pecan Deluxe rewards our employees by providing affordable, top-rate health benefit packages, employee recognition programs and our most popular employee perk…a FREE annual DART pass. The Dart Pass Perk was initiated by our President and CEO, Mr. Jay Brigham. Jay realized that a dependable bus schedule meant employees no longer had to fight traffic, and they could travel to and from work timely with less stress while enjoying a significant transportation cost savings.
Safety & Training Programs
All employees and contract employees receive Food and Workplace Safety training on an annual basis along with on-site equipment and specification safety training. Each employee is awarded safety days for working safe, which is another added company perk.
Community Involvement
We believe it is important to give back to our community, and we have established a number of committees and groups within Pecan Deluxe to help organize, raise awareness and contribute to many great causes! Visit our Giving Back Page to learn more.
Health and Wellness Enhancements
At Pecan Deluxe, we make health and wellness a priority. We want to make sure our employees are informed and included in our efforts to stay healthy. In the spirit of encouraging a healthy lifestyle, our "Walking Nuts" program was born. A team of volunteer employees join 5-10k charitable walks on a quarterly basis. We also have our annual Health Fair events which include on-site health screenings and consultations as well as quarterly wellness talks on varying wellness topics.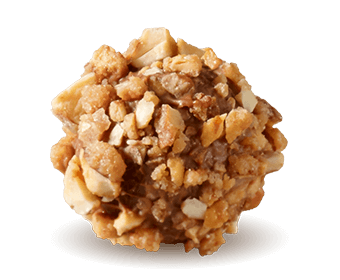 Let us be Your Secret Ingredient.
Let us develop custom-made inclusions just for you. Inquire here and one of our team members will be in touch with you shortly; we look forward to creating something extraordinary together!