Employee Spotlight: Claudia Granda
Name: Claudia Granda
Title: VP R & D
How long  have you worked for PD? 15 years!
Three words to describe PD: Quality, Innovation, Speed
What drew you to PD originally and how have you seen PD change since? Since before I started college, I knew I wanted to work for a candy company. I sent my resume through the Customer Service email on the website, and Bennie Brigham called me shortly after. I was here the next day for an interview. What drew me to Pecan Deluxe was the wide variety of products they made, but above all, the family culture I could feel when I came to visit. Since then (2005), Pecan Deluxe continues to be the warm, welcoming and wonderful family company it has always been. However, we have tripled our production space, and we offer a much larger portfolio of products. It certainly makes me proud to be part of this family and where we are now. 
What do you enjoy most about working for PD? Our people, both our employees and our customers. 
What do you consider most challenging about your job? Being a family owned company, decisions are made quickly and our speed to market is unparalleled. The most challenging part about R & D's job can be the large amount of products that we work on and launch. However, this is also what makes this job a lot of fun! We love seeing our products in the hands of consumers. 
Proudest moment working at PD?  When we launched our boba line! This was a cross-functional team effort, and we all worked really hard to see this line of products come to life. 
Favorite project you have worked on at PD? I was fortunate to have the opportunity to work with our team in Thailand to help establish our R & D department in the region, and also transfer our products/formulas to our Thai facility. We have an amazing team in Thailand, and I continue to enjoy working with them. 
Do you recall any embarrassing moments at work? It was actually earlier this year! I went home for lunch, and changed into my slippers. I drove back to the plant, and it wasn't until I was back in my office that I realized I still had my slippers on. I was comfortable and warm the rest of the day.
If you could do another job within the company for one day, what would it be? I would like to learn more about our Traffic Department. I truly admire the team's ability to deliver and coordinate the shipment of our products seamlessly. We have grown a lot in the past few years, and the complexity of getting our products to our customers has increased as well. They do an amazing job that a lot of us are not very familiar with.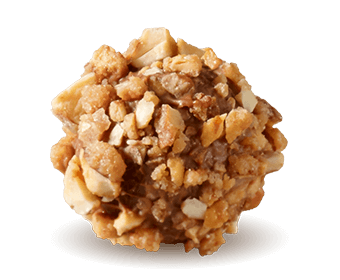 Let us be Your Secret Ingredient.
Let us develop custom-made inclusions just for you. Inquire here and one of our team members will be in touch with you shortly; we look forward to creating something extraordinary together!