Employee Spotlight: Jeff French
Name: Jeff French
Title: Director, Dairy North America
How long  have you worked for PD? I have worked for Pecan Deluxe for 17 years!
What drew you to PD originally and how have you seen PD change since? I was drawn by the opportunity to work for a dynamic company owned by a great family like the Brighams. I have seen so much growth since I started.
Three words to describe PD: Family, Innovation, Teamwork 
What do you enjoy most about working for PD? I love the collaboration of working together to provide ingredient solutions for our customers.
What do you consider most challenging about your job? With such a broad array of products and services, keeping up with the new markets and applications is a challenge.
Favorite quote, saying, scripture or line from a movie? "I alone cannot change the world, but I can cast a stone across the water to create many ripples."
Do you recall any embarrassing moments at work? Slipping on water in the plant on a customer tour was not fun!
If you could do another job within the company for one day, what would it be? Praline Pecan processing in the plant. I love the open copper kettles and smell of caramel in the air.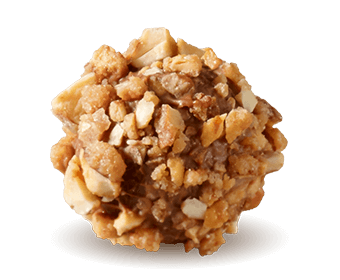 Let us be Your Secret Ingredient.
Let us develop custom-made inclusions just for you. Inquire here and one of our team members will be in touch with you shortly; we look forward to creating something extraordinary together!