Employee Spotlight: Tara Gonzales
Name: Tara Gonzales    
Title: Director of Marketing
How long you have worked for PD: I just celebrated my 10 year anniversary!
What drew you to PD originally and how have you seen PD change since? I would have to say the family values and the way that impacts the culture here at PD. The biggest changes have been the enormous growth we've experienced both into new geographic regions, new markets and by expanding our product offerings.
Three words to describe PD: Family, Fun, Fast-paced
What do you enjoy most about working for PD? I would say that it is fun to be involved in so many aspects of the business, no two days ever look exactly the same. Between presentations, content creation, overseeing photography, website, and video production, trade show planning, and special projects there is something new to learn and do every single day. Talk about keeping things fresh.
Proudest moment working at PD?  Gosh, there are actually a lot! I would say one is hiring the most amazing Marketing Coordinator, Amanda Cardinal! I so appreciate the team we have created and that she is the PB to my J. But, I also really love that the Brigham family is so generous and gives back internally to employees and the surrounding communities in so many ways and allows us opportunities to take part in that.
Favorite project you have worked on at PD? Again, there are a ton of work related projects I am really proud of…the website, the trade booth, certain special product launches, etc. However, working on the employee Christmas party and seeing proud parents bring their families, and the JOY in the kids eyes when they choose a gift to take home, as well as the appreciation of the staff at Scottish Rite when we drop of boxes of toys really makes me proud to be a part of Pecan Deluxe.
If you could do another job within the company for one day, what would it be?  Honestly, I am right where I want to be!  I LOVE my job and all the wonderful folks I get to work with!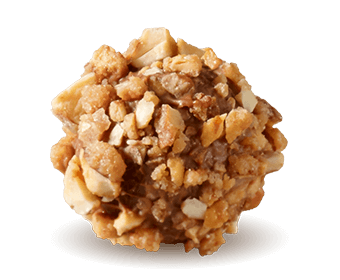 Let us be Your Secret Ingredient.
Let us develop custom-made inclusions just for you. Inquire here and one of our team members will be in touch with you shortly; we look forward to creating something extraordinary together!