Supply Chain Program
All suppliers and materials must meet rigorous safety and quality standards using certifiably safe, high-quality raw ingredients sourced ethically and sustainably. Each ingredient has corresponding specifications developed and utilized to ensure compliance with the most stringent regulations and exacting customer needs.
Plant Processing Program
All products are produced to the highest quality and safety standards preventing physical, chemical, and biological risks. This program is crucial to all processing areas including sanitation, foreign body prevention, allergen management, full traceability, preventive maintenance, and business continuity. We have a program in place that validates—through a third party—our cooking steps with a greater-than-5-log lethality, ensuring products are ready to eat.
Sanitation effectiveness is verified daily through a rigorous environmental swabbing program that screens for ATP, pathogens, non-pathogens, and allergens.
Product Verification Program
Analytical methods are used to ensure our products meet company, customer, and regulatory requirements. All testing is performed as appropriate by the product format and additional customer requirements. Validated testing requirements ensure the critical details of products including moisture, pH, Aw, viscosity, sieve analysis, density, and microbiological testing meet customer standards. Products are guaranteed, and certificates of analysis are available to customers for physical, chemical, and microbiological requirements.
We go the extra mile to meet or exceed a wide range of established food safety and quality standards.
Biodiversity and Sustainability
Management Commitment
Business Continuity
Food Fraud Mitigation
Food Safety & Defense
Site Safety & Security
GFSI-Recognized Standards
Ingredient Sourcing Continuity
Work Place Policies & Practices
Allergen Program
Hiring Policies
Non-GMO Project-Certified Products
Supplier Approval
Total Quality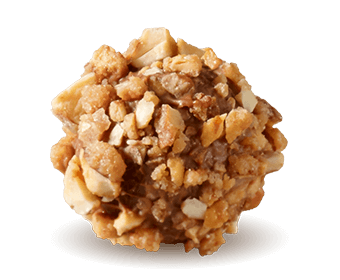 Let Us Be Your Secret Ingredient
Our inclusions can be made custom just for you. Inquire here and a member of the Pecan Deluxe Candy Company team will be in touch with you shortly to discuss your options. We look forward to creating something extraordinary with you!