Biscuit Fried Chicken
From the name alone, many assume Pecan Deluxe Candy Company is a sweets-to-sauces company that stays in their lane of the grand finale, end of meal, dessert experience. We pride ourselves on the ability to create signature inclusions, sauces, ribbons, and many other pieces that help elevate any ice cream, milkshake, yogurt bowl, and even beverages to the next level. But as we continue to expand our breadth of knowledge and pierce, oh so elegantly, the new markets, our Culinary team saw the need for savory solutions, and we delivered! Welcome to our rendition of the glorious bird—fried chicken.

Fried chicken is found on QSR, Fast Causal, Casual Dining, and even the white table menus across our great lands. Why not take a bite out of this ever-moving center of the plate movement? We have what it takes and I assure, the nuggets we made are divine and are considered a Texan delight.

The inclusions made in the factory at Pecan Deluxe are majority sweeter pieces, but in our Biscuit Fried Chicken, we used our baked and ground biscuit pieces in the breading. Yep! We took the biscuit and put it in every bite! If you're finding yourself dreaming about these precious, crunchy pieces of heaven, our Chefs have provided you the stairway to heaven—enjoy this fun and super tasty savory bite. We did!! -Chef Kami
Biscuit Fried Chicken
Yield ~50-54 Chicken Nugget Pieces                                                                                           
3-4 lbs Skinless, boneless Chicken Breasts
1 cup Buttermilk, regular
3 cups Water, cold
4 cups All Purpose Flour
1 ½ cups Pecan Deluxe Biscuit Pieces
3 tbsp Garlic Powder
3 tbsp Onion Powder
2 tbsp Cayenne Pepper
Salt to taste
Pepper, ground to taste
Rinse chicken thoroughly. Pat dry and place on cutting board.  Using a very sharp nice, remove any fatty skin and connective tissues if any, and slice breasts long-ways into strips.  Slice each strip into 1 ½" pieces.
In a medium mixing bowl, add buttermilk and water. Place cut chicken pieces into buttermilk water.  Cover bowl with cling wrap and let sit in refrigerator for 2 hours.
While chicken is resting, in a large mixing bowl, combine flour, PD Biscuit pieces, and all seasonings. You can add more seasoning or others to suit your taste buds.  We used 2tbsp salt, but have fun and add seasonings 1tbsp at a time until satisfied. Mix with a whisk.
Prepare the fryer. We used a Cuisinart 2qt fryer.  Any fryer will do.  Set to 325°F.  We also used peanut oil.  Allow oil to heat.
After two hours, remove chicken from refrigerator, and remove the cling wrap—discard cling wrap. With a food glove on one hand, use that hand to grab chicken and drop it into the flour mixture.  Coat well with the gloved hand, and immediately place the floured chicken back in the buttermilk water.  Repeat two more times.  When the chicken is coated a third time, place 8-10 pieces in the fryer basket and fry 4 minutes. Shake after 30 seconds if any chicken nuggets are stuck to the basket bottom or to each other. 
Once fully fried, dump the nuggets on a paper-toweled tray to allow to drain. Repeat until all chicken is fried. 
Serve with your favorite sauces or nibble as is!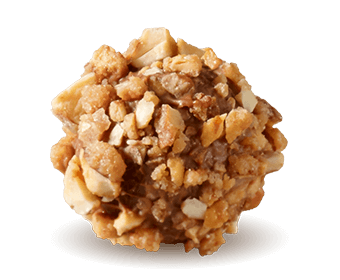 Let us be Your Secret Ingredient.
Let us develop custom-made inclusions just for you. Inquire here and one of our team members will be in touch with you shortly; we look forward to creating something extraordinary together!