Bursting Beauty Bowls
Check out two different ways you can pair smoothie bowls with popping boba:
Acai Bowl with Grape Popping Boba
1/2 cup blueberries (frozen)
3/4 cup milk (use your favorite milk)
1/2 cup plain yogurt
200 grams (2 packets) frozen acai puree
Toppings:
¼ cup granola
3 tbsp. grape popping boba
1 banana (sliced and frozen)
1/2 cup strawberries (frozen)
Matcha bowl with Vanilla Popping Boba
1 banana (sliced and frozen)
1/4 cup chopped ripe pineapple (frozen)
1 cup light coconut milk (canned or carton)*
2 tsp matcha green tea powder
1 cup organic spinach or kale (frozen)
Toppings:
>¼ cup granola
2 tbsp. shaved coconut
3 tbsp. vanilla popping boba
Smoothie bowls have gone from Instagram trend to health staple. Not only are they a great way to fit more fruit in your diet, but they can be created with infinite combos of flavors and toppings. One fantastic way to bring even more excitement and flavor to this sweet treat is to top it off with the latest trend in toppings, popping boba!
Add frozen ingredients listed for either smoothie bowl to a blender and blend on high until creamy and smooth.
Add only as much milk and/or yogurt as you need to help it blend. You want this smoothie somewhere between scoopable and drinkable.
For the matcha smoothie, add matcha green tea powder at this step and blend. Taste and adjust flavor as needed.
Divide in serving bowl(s). Top with granola and other toppings as desired. Finish with 3 tablespoons of drained popping boba.
Best when fresh, though leftovers keep well sealed in the refrigerator up to 24 hours.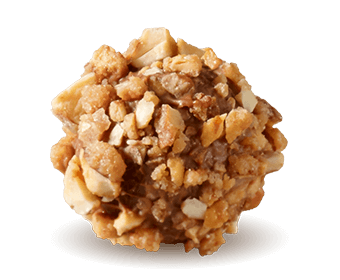 Let us be Your Secret Ingredient.
Let us develop custom-made inclusions just for you. Inquire here and one of our team members will be in touch with you shortly; we look forward to creating something extraordinary together!