Candy Corn Parfait
This Halloween, try this spooky treat that's sure to leave a sweet impression! This Candy Corn Parfait is a fun and easy Halloween twist on a classic parfait. We layered lemon pudding with our orange popping boba, topped it with cool whip, and sprinkled a few candy corn on top. This citrusy combination created the perfect combination of sweetness and texture. Whether you're throwing a Halloween party or having fun with the kids, this festive Candy Corn Parfait is sure to add a special touch of sweetness to your Halloween night!
Ingredients
1 Box Lemon Pudding

Cool Whip

Candy Corn
Recipe
Get all of the components ready. Follow the instructions on the box to make lemon pudding.
Fill the glass about half way with lemon pudding. 
Top the pudding with a healthy layer of orange popping boba.
Finish with a layer of  cool whip and garnish with candy corn as desired. 
Chill for about 30 minutes to an hour or until the puddings are set.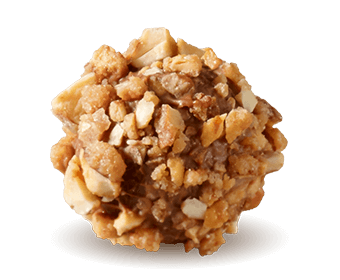 Let us be Your Secret Ingredient.
Let us develop custom-made inclusions just for you. Inquire here and one of our team members will be in touch with you shortly; we look forward to creating something extraordinary together!