Cookie Dough Cheesecake
Two classics come together for hybrid perfection!
Ingredients
Crust
1 cup Pecan Deluxe Baked Mini Chocolate Chip Gems
3/4 cup All Purpose Flour
2 tbsp White Sugar
4 tbsp Dark Brown Sugar, packed
6 tbsp Unsalted Butter, cold, cut into small cubes
Filling
12 oz Cream Cheese
16 oz Ricotta Cheese
1 1/3 cups Granulated Sugar   
4 Whole eggs
2 tsp Vanilla Flavor
Lemon rind & Juice of 1 Lemon
1 ½ tbsp Cornstarch
1 ½ tbsp Water
1 cup PD Chocolate Chip Cookie Dough
½ cup PD Dark Fudge Flakes
Method
Gather an 8" or 9" springform pan, and make sure the base is secured well. Using a bakery non-stick spray, spray the base of the pan only set aside.
Preheat oven to 375F
In a food processor, combine all dry ingredients and pulse until mixed.
Add the cold butter pieces and pulse until the mixture begins to come together, about 10 seconds.
Pour mixture into the springform pan and press mixture level.
Bake 12-15 minutes or until edges are golden brown.
Remove from oven; allow to cool. Set oven to 280F.
In the same processor bowl, mix cream cheese, ricotta and granulated sugar for 10 seconds.  Scrape down sides and mix additional 5 seconds.
Add eggs, vanilla, lemon rind and juice and mix for 10 seconds. Scrap down sides and mix additional 5 seconds.
Combine cornstarch and water; mix. While processor is running, pour the slurry into the batter. Let mix 5 seconds.
Using the non-stick bakery spray, spray the sides of the springform pan; pour the batter in the pan.  Add the PD Chocolate Cookie Dough pieces and the PD Chocolate Fudge Flakes and mix gently.
Place in 280F oven and bake for a full hour. Check internal temperature.  The cheesecake should cook to an internal 160-170F.  Should take no more than 2 hours. 
Pull from oven, let cool. Chill overnight. Serve with whipped cream and fresh fruits!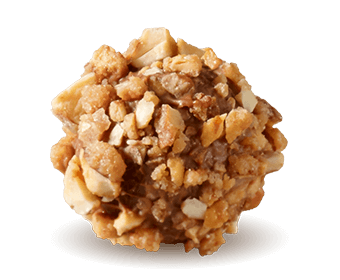 Let us be Your Secret Ingredient.
Let us develop custom-made inclusions just for you. Inquire here and one of our team members will be in touch with you shortly; we look forward to creating something extraordinary together!