Cookie Dough Pancakes
It's Pancake Day!
Ingredients
2tbs Hazelnut Spread
135g plain flour
1tsp baking powder
1/2tsp salt
2tsp caster sugar
130ml milk
1 large egg lightly beaten
2tbsp melted butter
2tbsp melted butter or olive oil plus extra for cooking
Frying pan
Tuesday, February 16 marks Shrove Tuesday, better known to many as Pancake Day. What to put on top of your pancakes is often a divisive subject – do you go for maximum indulgence with ice cream, Nutella or whipped cream, or keep it simple with a classic lemon and sugar combination? Well for Pecan Deluxe, nothing is ever ordinary. Nope, we've gone for full-blown indulgence with American-style pancakes stuffed with chocolate chip cookie dough. It is the perfect combination and to make this glorious gooey stack one step closer to heaven, we added a layer of hazelnut spread in-between each pancake…best Pancake Day ever!?
Method
Sift flour, baking powder, salt and caster sugar into a bowl. In a separate bowl whisk together milk and egg, then whisk in melted butter.
Pour the milk mixture into the flour and using a fork beat until you have a smooth batter. Any lumps will soon disappear with some mixing.
Heat a non-stick pan over medium heat and some butter or oil. Add a ladle of batter to cover the pan.
Add the cookie dough pieces! Sprinkle as little or as many you want (or you can pour it into the mixture before hand).  Wait until the top of the pancake begins to bubble, then flip over and cook until both sides are golden brown.
Serve with layers and layers of hazelnut spread and top it off with whipped cream or ice cream.
Enjoy!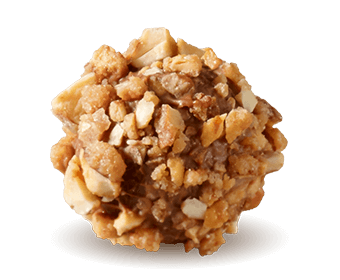 Let us be Your Secret Ingredient.
Let us develop custom-made inclusions just for you. Inquire here and one of our team members will be in touch with you shortly; we look forward to creating something extraordinary together!