Dough Make me Scream for Ice Cream!
Ice cream
3 tablespoons unsalted butter
1 scant cup sweetened condensed milk
2 tablespoons brown sugar (see note)
1 teaspoon pure vanilla extract
2 cups chilled heavy cream
⅓ cup mini chocolate chips
½ Cup PDCC Chocolate Chip Cookie Dough
In a small saucepan, over medium-low heat, melt butter. Cook until light brown with nutty scent, stirring occasionally, and being careful not to let it burn. Transfer the browned butter (and the browned bits) into a medium-sized bowl and cool to room temperature (about 15 minutes or so).
Once the butter has cooled, add the sweetened condensed milk, brown sugar, and vanilla to the browned butter. Whisk until well combined.
In a separate bowl, using a hand mixer and beat heavy cream until stiff peaks form. Add half of the browned butter mixture to the whipped cream and carefully fold it in. Add the remaining browned butter mixture to the cream and fold it in.
Fold PDCC Cookie Dough pieces into the ice cream mixture, pour into a pan, cover tightly and freeze overnight.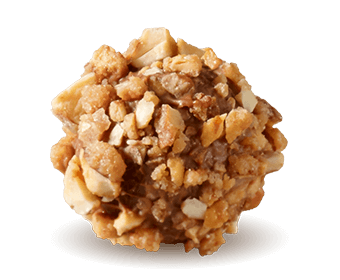 Let us be Your Secret Ingredient.
Let us develop custom-made inclusions just for you. Inquire here and one of our team members will be in touch with you shortly; we look forward to creating something extraordinary together!