Going Gaga for Grapefruit
Ingredients
1 bunch kale (shred leaves and remove stems)
1 cup red cabbage diced
1 apple sliced thin
1 pink grapefruit skin removed, flesh cut into chunks
1/4 cup currants
1/2 cup shredded white cheddar cheese
1/2 cup PDCC Praline Almonds, small
PDCC Grapefruit Popping Boba for a garnish
Apple Cider Vinaigrette
1 small shallot
1/4 cup extra virgin olive oil
3 tbsp. apple cider vinegar
2 tsp. dijon mustard
2 tsp. honey
1/2 tsp. salt
1/4 tsp. freshly ground pepper
Directions
Place all Vinaigrette dressing ingredients in a blender and puree until smooth. Set aside.
Place all salad ingredients in a large salad bowl and toss with dressing.
Top with PDCC Grapefruit Popping Boba.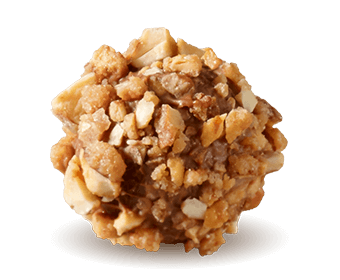 Let us be Your Secret Ingredient.
Let us develop custom-made inclusions just for you. Inquire here and one of our team members will be in touch with you shortly; we look forward to creating something extraordinary together!