Have a Holly-Pop'n Christmas
Tis the season for joy, kindness, sharing good will toward mankind, and baking oodles and oodles of cookies, candy, fudge, and so much more! Every season I go back into my collection of cookbooks, read over past formulas from my days in pastry production, and somehow, I wind up coming back to the simple, the fun, and the scrumptious!
This holiday season, I decided to prepare all sorts of snacks. Since I work from home, I felt I would operate better if I had a sustaining snack mix available that had a fun, Christmas vibe. I pulled out my Cuisinart Popcorn Popper, grabbed my bag of pretzels, the holiday M&Ms, crushed a few Reese's Peanut Butter Cups, and pulled out the Pecan Deluxe Red and Green Coated Popping Candies! I combine all these items in a large bowl, then make my signature white fudge coating and drizzle it over the mixture. Add some kosher salt, carefully fold the mix, and pour it out on parchment paper to set up. In about 20 minutes, the snack mix is ready to handle, and without further ado, I munch my heart out! But the surprise factor in this snack mix is the pop! Not only is the mix salty-sweet and crunchy, but with the addition of the Pecan Deluxe Coated Popping Candies, the pop'n sensation brings this sweet moment to life!
Pecan Deluxe Candy specializes in creating unique and delicious experiences for every life moment. For your holiday season, allow us to take your traditional baking moments to extraordinary ones. Cheers? – Chef Kami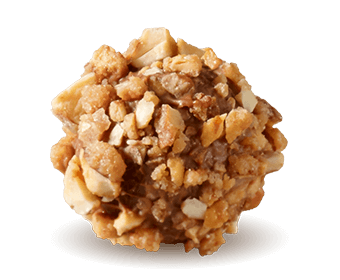 Let us be Your Secret Ingredient.
Let us develop custom-made inclusions just for you. Inquire here and one of our team members will be in touch with you shortly; we look forward to creating something extraordinary together!