Hawaiian Heaven
Ingredients
1 cup sugar (heaped)
1 ⅔ cups coconut milk
2 tablespoons lime juice
3 tablespoons PDCC Praline Coconut
3 tablespoons PDCC Praline Almonds
½ cup PDCC Passionfruit Variegate
4 teaspoons coconut liquer
⅞ cup heavy cream
Directions
Place the sugar in a pot with 250 ml water and bring to a boil. Simmer for 10 min then remove from the heat and let cool for 5 min.
Stir in the coconut milk, lime juice, PDCC Praline Almonds, Praline Coconut and the liqueur and then fold in the cream.
Pour the mixture into an ice cream maker swirling the PDCC Passionfruit Variegate in the center and freeze/mix for around 15 min. Alternatively place the mixture into a shallow metal bowl. Cover and leave in the freeze for 5 hours, mixing well every 10 min during the first hour.
Store the ice cream in the freezer around 30 min before serving then serve big heaping scoops of smiles, I mean ice cream!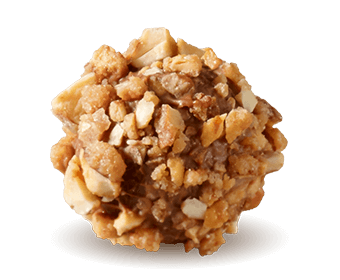 Let us be Your Secret Ingredient.
Let us develop custom-made inclusions just for you. Inquire here and one of our team members will be in touch with you shortly; we look forward to creating something extraordinary together!