Isn't Velvet Lovely?
I've been shopping around for new fabrics to upholster my current sofa.  This twill grey upholstered, chesterfield style, low profile, tufted back, 96" piece of beauty had my heart fluttering when I got it many years ago, but as our taste change, mine has certainly done a 180, and I'm over the grey scale.  While choosing new colors and fabrics, I found myself gravitating to the velvets.
Velvet is plush, inviting, and luxurious.  Velvet jackets, skirts, and even drapes are all glamorous lifestyle choices, but has anyone ever really thought about how that translates to that infamous cake covered in cream cheese icing that we love to indulge in? Is Red Velvet Cake glamorous?  Is it inviting?  You better believe it is!
The term 'velvet' actually comes from the use of cocoa powders used in the base cake formula in the early 1800s.  It softens the flour, creating a more smooth texture, smaller crumb, and in turn, became known as Velvet Cakes.  Several varieties were created like Devil's Food and Mahogany (cocoa + coffee), but the one that quickly rose to the top was our beloved Red Velvet.
At Pecan Deluxe, we savor any moment to honor our amazing product line, and we are very proud of our version of Red Velvet—Red Velvet Cake Crunch!   Rich red color, crunchy texture, sweet buttermilk flavor, absolute perfection.  Order a sample today and see if it doesn't inspire you to be a velvet person too!
-Chef Kami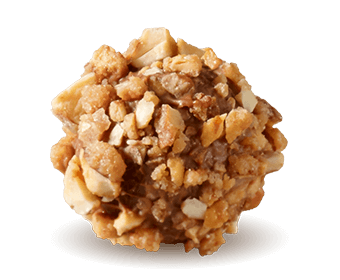 Let us be Your Secret Ingredient.
Let us develop custom-made inclusions just for you. Inquire here and one of our team members will be in touch with you shortly; we look forward to creating something extraordinary together!