Jump Start Shot!
Jump Start Shot
Yield: 16 shots or one tall beverage
In a blender:
1 ripe and peeled banana
¼  cup oat milk  
¾ cup Carrot Juice (regular or organic)
1 Tbl Ginger puree
1 Tbl Lemon juice
3 cups ice
As children, we all heard the adage, 'eat your vegetables!' While many found it hard to stomach as children, in this new health-conscious world, great tasting better-for-you, plant-based ingredients and products are not hard to come by. With today's "betterment" consumer trend, people are wanting to indulge while still maintaining a "healthy" lifestyle. This is why at Pecan Deluxe we like to focus on healthy indulgence. A great example of this best-of-both-worlds approach, is this Jump Start Shot, featuring our Mango Popping Boba!
The star of the show in this healthy smoothie treat is the carrot. Carrots are a great source of vitamin A, which is essential for healthy eyesight and skin. Carrots are also a particularly good source of beta carotene, fiber, vitamin K1, and antioxidants. The Jump Start Shot also includes a full banana. Both Bananas and Carrots contain potassium. Potassium can help lower your risk of stroke, can help keep your bones healthy as you age, improves muscle function, and can help prevent kidney stones. The ginger in this recipe contains anti-inflammatory properties that may help reduce pain associated with arthritis or other conditions such as menstrual cramps or headaches. Lemon juice brings this smoothie shot together, with a nice helping of vitamin C, an antioxidant that helps fight free radicals (harmful molecules) in the body. It's also known to boost immunity and improve bone health.
Not only are these ingredients good for you, but carrots and bananas are naturally sweet! Pairing this with our Mango Popping Boba gives added color, sweetness, flavor, and texture. The combination takes this healthy immune boosting shot, from simply functional to perfectly indulgent! So here's to keeping your beverages not only tasty and beautiful, but healthy too!
Place all ingredients in blender and run until smooth. If a thinner smoothie is desired, add less ice; thicker, add more ice.
Pour into desired glass.
Top with PD Mango Popping Boba and enjoy!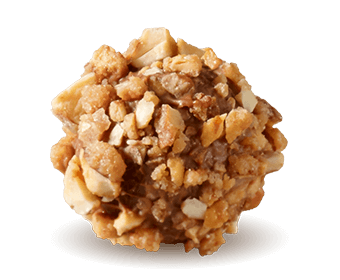 Let us be Your Secret Ingredient.
Let us develop custom-made inclusions just for you. Inquire here and one of our team members will be in touch with you shortly; we look forward to creating something extraordinary together!