Klean Key Lime Tart
We at Pecan Deluxe strive on making sure all our amazing products work with your applications and deliver on flavor, texture, and visual appeal.  But with the changing times come changing our scope, so to make sure our products work and bring success, we test a ton of items and bake with them to confirm our assumption- yep, our stuff is still awesome!
Check out our newest Klean Keylime Tart!  It's a plant-based item using our Plant-Based Graham Crumbles!
Oven: 375°F
Crust Recipe:
1 1/2 cups – Pecan Deluxe Plant-based Graham Crumbles 
4 TBL – Packed, Dark Brown Sugar
6 TBL – Melted, Vegan Butter
Keylime Filling
1 can – Coconut Milk, hardened cream and all
1 can – Sweetened Condensed Milk
4 TBL – Corn Starch (or Arrowroot)
1 cup – Keylime Juice (can use Lime)
1 TBL – Keylime zest (2 keylimes or limes)
3 TBL – Coconut Oil
Let's Make a Pie!
Combine the crust ingredients in a medium bowl using a wooden mixing spoon.
Using a vegan pan spray or rubbing vegan butter into choice pan or tart pans, coat your pan and then scoop crust mix into the vessel and begin to press firmly the crust until it forms an even shell; on base and up the sides.  Take your time and make sure its even using the back of a spoon, or the base of a ¼ metal measuring cup.  The crust doesn't stick to metal as easily as to plastic. 
When done, place your tart shells or pie tin on a baking sheet and place in your pre-heated oven and bake 7-10 minutes or until slightly golden brown.
Remove from oven and let cool completely.
Filling: Combine all filling ingredients in a medium sauce pan and bring to a boil over medium heat, while continuously stirring with a whisk, so nothing sticks or burns on the bottom. 
Continue mixing until mixture thickens which should be after 2-3 minutes. Once it does thicken, remove from heat and pour into prepared, cooled graham shell(s). 
Place pie/ tarts in your refrigerator and allow to cool for at least 6 hours. We let our sit for a full day to make sure it fully set up.  We loved how it turned out!
Finish with your choice of topping and garnish!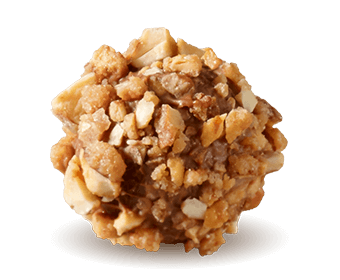 Let us be Your Secret Ingredient.
Let us develop custom-made inclusions just for you. Inquire here and one of our team members will be in touch with you shortly; we look forward to creating something extraordinary together!