Lemon Blueberry Muffins
Ingredients
½ cups All-purpose flour
3/4 cup granulated sugar
1/4 teaspoon fine sea salt
1 Lemon (for zest)
2 teaspoons baking powder
1/3 cup canola oil
1 large egg
1/3 to 1/2 cup milk
1 ½ teaspoons vanilla extract
6 to 8 ounces fresh or frozen blueberries; see note below about frozen berries (about 1 cup)
Method
Heat oven to 400 degrees Fahrenheit. Line 10 muffin cups and fill the remaining cups with 1 to 2 tablespoons of water to help with even baking.
Whisk the flour, sugar, baking powder, and salt in a large bowl.
In a separate bowl add oil, egg, zest of 1 lemon, milk and vanilla and whisk throughly.
Add milk mixture to the bowl with dry ingredients and fold together. Do not over mix. Fold in the blueberries.
Divide the batter between muffin cups. Sprinkle a Lemon Shortbread Pieces on top of each muffin.
Bake muffins 15 to 20 minutes or until tops are no longer wet and a toothpick inserted into the middle of a muffin comes out with crumbs, not wet batter. Transfer to a cooling rack.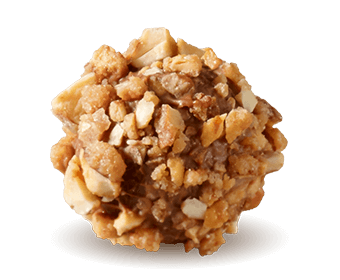 Let us be Your Secret Ingredient.
Let us develop custom-made inclusions just for you. Inquire here and one of our team members will be in touch with you shortly; we look forward to creating something extraordinary together!