Lovable Bites
Celebrating isn't new; in fact, we carve out time to celebrate the smallest occasion like the inconsequential yet ever exciting, Taco Tuesday. Our calendar year is filled with celebrations, but after the excitement of the Holidays came to a close and we ushered in the new year with changes and resolutions, we find ourselves a little burnt out. By the end of January with the pillars of 'to dos' on our shoulders, we all crave something new to look forward to and celebrate. There is no better time to swing into our lovely month of February! So much to love about this month, no pun intended. At Pecan Deluxe, we feel every day is an incredible day to celebrate, but what 's more worthy of celebrating than love?
Our chefs love to push the envelope with unique, out-of-the-box flavors, but sometimes classic, familiar, and simple concepts can deliver just the same. We found this to be true with our precious Lovable Scones. Are scones new? Nope! Do people like to eat heart-shaped baked items? Of course they do! 
When it comes to Valentine's Day, leaning back on the classic flavors of inclusions like Praline Almonds and Dried Fruit Oat Blend, combined with the simplicity of a baked good, we had all we need to celebrate. We love to showcase our passion for inclusions and candies, and hope, by providing this little lovable recipe, you may find yourself craving a new moment to celebrate. 
Enjoy this little Valentine's Gift from PD, and may these sweet scones make your Valentine's Day memorable.
Ingredients
4 ½ cups All Purpose Flour 
2 teaspoons Baking Powder
½ teaspoon Baking Soda 
2 Tablespoons Sugar, granulated
Pinch of Salt, iodized (~1/8 tsp)
8 ounces Cold Unsalted Butter 
1 ¼ cup Heavy Cream
1/2 cup Praline Almonds
1/2 cup Dried Fruit Oat Blend
Egg Wash
1 egg
¼ milk
Method
Preheat Oven to 325F.
Sift dry ingredients in a large mixing bowl.
Cut the butter into small pieces and mix in a bowl with a pastry cutter, until mixture resembles coarse meal.
Add Praline Almonds and Dried Fruit Oat Blend, and mix well using a rubber spatula to incorporate well.
Mixing lightly, add heavy cream just until the dough holds together.  Wrap in plastic wrap and let rest in refrigerator for 30 minutes.
On a floured table, roll dough into a circle and using a heart cookie cutter, begin to cut the shapes and place dough hearts on a parchment- lined baking sheet.
Egg wash the tops of dough hearts and dredge granulated sugar atop.
Bake 20-28 minutes or until lightly golden brown and puffy.
Remove from oven and let cool 10 minutes.  Serve as it or with butter and jam.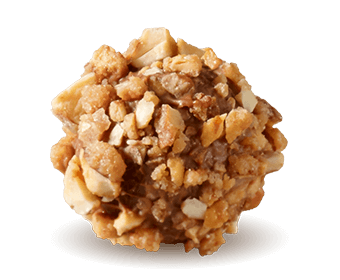 Let us be Your Secret Ingredient.
Let us develop custom-made inclusions just for you. Inquire here and one of our team members will be in touch with you shortly; we look forward to creating something extraordinary together!