Nothing Like Nougat Waffles
Ingredients
2 ¼ Cups All Purpose Flour
1 Tablespoon Baking Powder
3 Tablespoons Sugar
½ Teaspoon Salt
2 Large Eggs Separated
½ Cup Vegetable Oil
2 Cups Milk
1 Teaspoon Vanilla Extract
PDCC Nougats
Waffles are a classic staple found commonly on breakfast or brunch plates.  They are well loved because of their amazing crispy golden exterior with deep grooves for holding that buttery, syrup goodness! Let's talk about how adding our flavored nougats can add a dimension of flavor and esthetic appeal to elevate the traditional waffle to an entire new level!
Instructions
Preheat your waffle iron, spray with non stick cooking spray and set aside.
In a large bowl whisk together the flour, baking powder, sugar, and salt.
In a medium bowl beat the egg whites with a hand mixer until stiff peaks form. Set aside.
In a separate medium bowl mix together the egg yolks, vegetable oil, milk, and vanilla extract.
Add the egg yolk mixture to the dry ingredients and mix well.
Fold in the egg whites and PDCC Nougats of choice.
Pour the batter onto your hot waffle iron and cook according to manufacturer's directions**
Serve immediately with butter, syrup, powdered sugar or any other favorite toppings.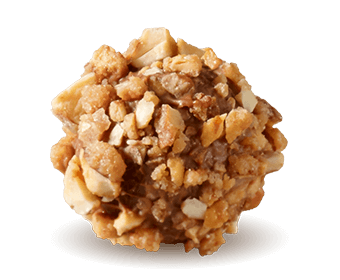 Let us be Your Secret Ingredient.
Let us develop custom-made inclusions just for you. Inquire here and one of our team members will be in touch with you shortly; we look forward to creating something extraordinary together!