Nutty about Granola
Ingredients
2 1/2 cup PDCC Granola
1/2 cup PDCC Praline Pecans, small
1/4 cup honey
1/4 cup unsalted butter
1/3 cup brown sugar
1 teaspoon vanilla extract
1/4 teaspoon kosher salt
1/4 cup PDCC Praline Pretzels
¼ cup PDCC Praline Coconut
¼ cup Dried Cranberries
Instructions
Preheat the oven to 350 degrees. Line a 9-inch square baking dish with parchment or foil and lightly spray with cooking spray.
Place the granola and nuts on a rimmed baking sheet and bake for 8-10 minutes until lightly toasted.
While toasting, add the honey, butter, and brown sugar to a small saucepan. Cook over medium heat until the butter melts and the sugar dissolves, stirring constantly. Let the mixture cook, while stirring, for 1 minute and then remove from the heat.
Place the nuts and granola in a large bowl.
Stir in the vanilla and salt to the butter mixture. Pour this mixture over the granola and nut mixture and stir to combine. Add any extra ingredients and stir to combine. Make sure all of the granola is fully coated.
Place all of the mixture in the prepared pan. Use a rubber spatula or the bottom of a greased measuring cup to press the mixture into the pan. Press it in very firmly, this is what makes the bars stick together.
Chill the granola bars for at least 2 hours. Lift the bars from the pan using the edges of the foil or parchment and place them on a cutting board. Cut into desired shape/sizes and serve.
Store in an air-tight container in the fridge for up to 10 days.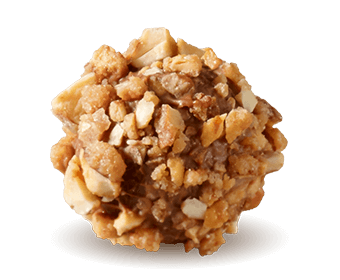 Let us be Your Secret Ingredient.
Let us develop custom-made inclusions just for you. Inquire here and one of our team members will be in touch with you shortly; we look forward to creating something extraordinary together!