Pecan Shortbread or Sandies- Either way don't miss this recipe!
Ingredients
1/2 cup (1 stick) unsalted butter, room temperature
1/2 cup packed light-brown sugar
1 1/2 teaspoons pure vanilla extract
1/4 teaspoon salt
1 cup all-purpose flour (spooned and leveled)
1 cup PDCC Praline Pecans, medium
Directions
Preheat oven to 350 degrees, with racks in upper and lower thirds.
In a large bowl, using an electric mixer, beat butter and sugar until light and fluffy; beat in vanilla and salt. With mixer on low, gradually add flour, beating just until combined. Fold in Pecan Deluxe Praline Pecans.
Roll dough into 1 1/2-inch balls, and place on 2 baking sheets, 2 inches apart. Lightly flatten each ball using the dampened end of a glass cup.
Bake until cookies are golden brown, 15 to 17 minutes, rotating sheets halfway through. Transfer to wire racks, and let cool.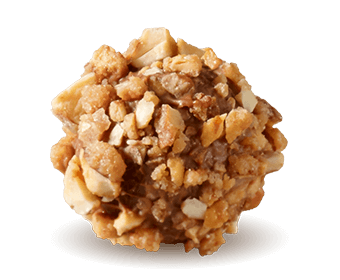 Let us be Your Secret Ingredient.
Let us develop custom-made inclusions just for you. Inquire here and one of our team members will be in touch with you shortly; we look forward to creating something extraordinary together!