Popping Boba Wildberry Fizz
Whether at bar or at home, step up your mocktails and cocktails with popping boba!
Ingredients
Raspberries

Blackberry

Lemons
Mineral Water
Non-alcoholic sparkling wine
Lemonade
Raspberry Syrup
Springtime is upon us and that means people are going out and looking for refreshing new options. What better way to set your restaurant or bar apart than topping your craft drinks with something new and exciting like popping boba!
Since the launch of Pecan Deluxe Popping Boba we have been creating a fun line of mocktails like the one featured today—the Wildberry Fizz. Making this delicious drink is quite simple and doesn't take experience working behind a bar. Here's how you make it!
Fill a tall glass with ice; set aside
In a shaker, place 2 wedges of sliced lemon, 3 springs of fresh mint, and 1 tsp raspberry syrup and muddle until aromatic (when you begin to break the membrane of the mint and rind of the lemon, it will smell amazing!)
Top the minty lemon syrup with 4 ounces of lemonade and 4 ounces of mineral water; fill the shaker with ice. Seal shaker top and shake vigorously for 10 seconds.
Remove the cap of shaker and pour the mixture into your tall glass with ice, straining out the mint and lime bits.
Top the mixture with non-alcoholic wine and 1 tablespoon of Pecan Deluxe Wildberry Popping Boba.
Serve with skewered berries and a bunch of fresh mint and a straw!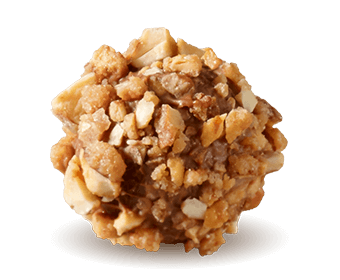 Let us be Your Secret Ingredient.
Let us develop custom-made inclusions just for you. Inquire here and one of our team members will be in touch with you shortly; we look forward to creating something extraordinary together!