Popping Boba Hawaiian Island Smoothie
Director of Culinary Showcasing, Kami Smith, announces Pecan Deluxe's latest inclusions innovation, popping boba! In this addition of Kami's Corner, she demonstrates one of the infinite popping boba application, the Hawaiian Island Smoothie!
Ingredients
Pecan Deluxe Blue Raspberry Popping Boba
1 Medium Banana
1 Cup Frozen Sweet Pineapple
1/2 tsp. Turmeric
1 tsp Grated Ginger*
3/4 Cup Milk**
Preparation
In a blender place the banana, frozen pineapple, turmeric and ginger.
Pour milk over the ingredients, then look in the lid and run for 15-20 seconds until all are blended and smooth.
Pour smoothie in your favorite glass, and top with one tablespoon of the Blue Raspberry Popping Boba
Enjoy with a straw, and a pair of sunglasses… sure to make you smile!
*Can substitute with ginger paste, but reduce by 50%
**Can substitute for almond, coconut, cashew, or oat milk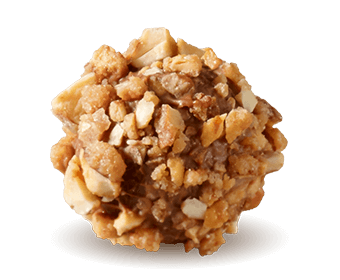 Let us be Your Secret Ingredient.
Let us develop custom-made inclusions just for you. Inquire here and one of our team members will be in touch with you shortly; we look forward to creating something extraordinary together!