Pumpkin Brown Sugar Mochimallow Cheesecake
Can you imagine a more perfect dessert for your Thanksgiving table than this Pumpkin Brown Sugar Mochimallow Cheesecake? Why have a basic pumpkin pie, when you can up your fall game with a smooth and creamy pumpkin cheesecake, filled with the spice and rich molasses flavor of brown sugar mochimallow, our take on mochi. Baked on a graham-shortbread crust, the cinnamon-spiced pumpkin cheesecake batter swirled with the new Pecan Deluxe Brown Sugar "Mochi" Bite, is baked in a warm oven until set. Once we pulled it out of the oven, and allowed it to cool, we sliced the cake and drizzled with caramel sauce. 
For more on mochimallow, get in touch with us or visit our extruded inclusions page!
Recipe
Crust
¾ cup Graham Crumb
¾ cup All Purpose Flour
4 tbsp Brown Sugar
3 tbsp White Sugar
6 oz Butter, chopped, cold
Salt, pinch
Filling
16 oz Cream Cheese
16 oz Ricotta
1 1/3 cup Sugar
4 Eggs
1 tsp Vanilla Extract
8 oz Pumpkin Puree
2 tsp Cinnamon
2 tbsp Cornstarch
2 tbsp Water
Method
Crust
In a processor, run the graham crumb, flour, sugars, and salt until combined. 
Add butter and pulse until mixture resembles small-sized peas.
Spray inside base of the springform pan and deposit the mixture in the base.  Using any chosen tool, begin to level mixture then press to pack the mixture well.
Place in a 375°F oven for 10-12 minutes or until sides are golden brown. Remove from oven and allow to cool for at least 15 minutes. 
Turn oven down to 280°F.
Filling
In the food processor, add the cream cheese, ricotta and sugar. Run the mixture until smooth. 
Add eggs and vanilla and run for an additional 30 seconds.
Add pumpkin puree and cinnamon spice, run 10 seconds and make sure to scrape down sides of mixture if needed.
In a small bowl, add the cornstarch and water which will make a paste. Mix to combine, then as cheesecake processor is running, add the cornstarch slurry mixture until incorporated (about 10 seconds).
Mix in Mochimallow pieces.
Stop processor. Spray springform pan inside side wall with greaser, and pour the batter in. 
Place the pan in middle of the oven and bake at 280°F for one hour.
After one hour, turn oven down to 270°F, and bake for 20 minutes, or until set.
Remove from oven and let cool in refrigerator until cold. Serve with whipped cream and caramel sauce!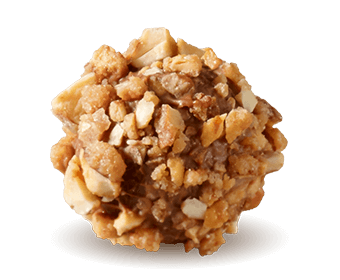 Let us be Your Secret Ingredient.
Let us develop custom-made inclusions just for you. Inquire here and one of our team members will be in touch with you shortly; we look forward to creating something extraordinary together!