Pumpkin & the Goat
As a manufacturer of wholesale nuts and seeds, Pecan Deluxe prides itself on providing a plethora of tasty and unique products that can be found inside many ice creams, yogurt cups, cereal boxes, snack blends, beverages, and even salads all over the globe. We love inspiring others and are always excited to see how creative one can be when implementing our items into their products and onto their menu boards. Our culinary and marketing team is always on the hunt for the new, the cool, and the 'sweet' idea that could spark a revolution of awesome for our beloved social followers and local customers. We feel it is our responsibility to showcase and push what we feel are must trys, so with this application today, we feel we did just that. 
In the kitchen, we all discovered our love for the Pralined Pumpkin Seed product, and though it's amazing in and of itself, we wanted to showcase it in a fun and unexpected way to hopefully spark customers creativity to put their own personal twist on the yummy application. We came up with Pumpkin Seed Crusted Goat Cheese. We love our artisanal pralining process that has been perfected over generations, and wanted to create the most delicious, stunning offering you could make at your very own kitchen table. Restaurants top to tail have a version of cheese and meat boards available on their menus, but to take our sweet and caramelized pumpkin seeds and add them to the already star-studded cheese line up—all we can say is you're welcome.  We realize its not exactly Fall weather, but no matter the season, the event, or the dress code, the Pumpkin will always be the G.O.A.T.  Cheers! - Chef Kami
Method
Using a small bake tray, pour the Pecan Deluxe Pralined Pumpkin Seeds and slowly shake side to side to create a level portion
Remove chilled goat cheese from wrapping and discard wrapper. 
Place goat cheese onto Pumpkin Seeds and gently roll the cheese onto the seeds covering all sides evenly.
Once fully coated, serve immediately with sliced fruits and choice crackers, or wrap the Pumpkin Seed coated Goat Cheese Log in plastic and store in refrigerator until serving.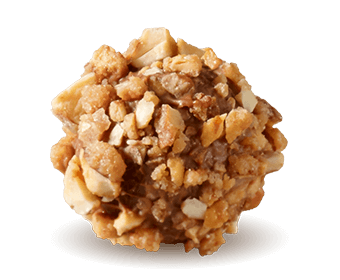 Let us be Your Secret Ingredient.
Let us develop custom-made inclusions just for you. Inquire here and one of our team members will be in touch with you shortly; we look forward to creating something extraordinary together!