Punk'd… and I Ain't Mad About It
Punk'n Pie Cupcake
Oven 375°F  Time ~25 minutes
All Purpose Flour               2 ¼ cup
Ground Cinnamon             1 tsp
Ground Ginger                    ½ tsp
Ground Nutmeg                 ½ tsp
Ground Clove                      ½ tsp
Ground Allspice                 ½ tsp
Salt                                        ½ tsp
Baking Powder                   1 Tbl
Baking Soda                        ½ tsp
Butter, softened                 2 sticks
White Sugar                        1 cup
Brown Sugar                       1/3 cup
Eggs, whole                         2 each
Milk                                      ¾ cup

Pumpkin Puree 1 cup
Mini Pumpkin Tart (for Garnish)
Oven 325°F  Time ~25 minutes
Sugar Dough
Sugar                                      1 cup    
Butter, unsalted                   1 stick  
Eggs, large                             1 each
All-Purpose Flour, sifted 1  ½ cups
Pumpkin Pie Filling

Pumpkin Puree 1 cup

Condensed Milk                    ½
Punk'n Pie Cupcake
Cupcakes were all the rage and we had to dive into that obsession for the Fall holiday season.  Pumpkin pie, pumpkin cake, pumpkin roll, pumpkin latte… what can we say, we love our pumpkin!  To bring an even more delicious dessert to the table, we decided to play in the tiny food movement.  What better way to serve a pumpkin cupcake than to put a slice of pumpkin pie atop?!  We love this application and to push the texture and the concept even further, we garnished with our baked pie chip to emulate more crust.  Don't get us wrong, we love pumpkin, but when eating pumpkin pie, or any baked pie, we find enjoy  biting into the crunchy crust too.  Our baked pie chip is so versatile and easy to use.  Why not use them for your desserts this fall?  Here's how we made our adorable dessert.
In a 2oz muffin baking tin, place cupcake liners in each cavity.  Set aside.
In a mixing bowl, sift together all dry ingredients.
In a second mixing bowl combine the butter and sugars with a hand or stand mixer until light and fluffy (~6 minutes).
Add eggs and combine until fully blended.
Stir in milk and pumpkin puree, then add dry ingredients, mixing until just combined.  Best not to over mix the batter.
Pour a little over ½ the liner in batter.  Place in a pre-heated oven.
When golden brown, remove from oven and wait 2 minutes, then remove from the pan and let cool completely on a wire rack.
To finish, ice the tops of each cupcake with prepared cream cheese icing.  Garnish with a slice of Mini Pumpkin Tart and Pecan Deluxe Baked Pie Chips, then dust with ground cinnamon.  Enjoy!
In a mixing bowl, combine cream cheese and butter until light and fluffy.  Add sugar and vanilla extract.  If too soft, can add ¼ cup more sugar if needed.  Ice the baked cupcakes when fully cooled.
Grease 6- 4" tart shells.  Place on a baking sheet.  Set aside
In a mixing bowl combine sugar and butter until fluffy and lighter in color.
Add egg and combine well.
Add flour and mix slowly as not to dust the flour in the air.  Once combined (will be thick), spoon mixture onto a small tray, cover with plastic wrap and chill for 2 hours.
Once completely chilled, remove from refrigerator, unwrap, and lightly dust work counter with more all purpose flour.
Being to work the chilled dough into a smooth ball so it can be rolled out.
Work into a disc and lay on counter.  Using a rolling pin slowly begin to roll out to a ¼" thickness.
Place a tart shell upside-down on the dough and cut around the edge.  Flip tart shell over and gently press the cut circle inside. Repeat for remaining tart shells.
Bake shells 10 minutes, then remove from oven and if any bubbles have formed in the base of the tart shells, simply drop the shells on the counter using an oven mit to allow the air to escape.  Place shells back in oven for additional 2 minutes.
Remove and allow to cool.
Fill shells with prepared pumpkin pie filling and bake for 8 minutes or until set.
Let cool for 2 hours, then slice each pumpkin tart into 8 mini slices.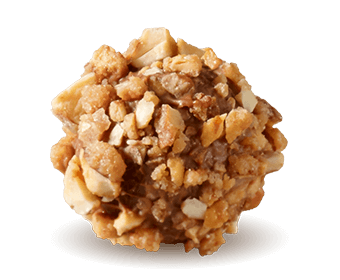 Let us be Your Secret Ingredient.
Let us develop custom-made inclusions just for you. Inquire here and one of our team members will be in touch with you shortly; we look forward to creating something extraordinary together!