Ribbons, Variegates, & Sauces- Oh My!
Ribbons, Variegates, & Sauces Oh My!
Pecan Deluxe has a catalog of products, so many, in fact, it would take a week to name every item rolling out of our factories.  We take great pride on the quality ingredients, the artisan skill set among our team members, and incredible talents and creativity of our development team including chefs and scientists that keep making candy and all the baked items new, tasty and perfect for almost any application.  We are the experts in praline processing, bakery, and extrusion, but now, after addition of equipment and packaging, we are the new experts in ribbons, variegates, & sauces.  What is a ribbon/ variegate, you ask?  These are the swirls of fudges and sauces that you scoop up in ice creams and frozen desserts.  We specialize in ice cream production, so that any processor can purchase our items and use them immediately in their lines.  Craving a fudge ribbon in your almond mocha ice cream?  Need a Tart Berry Ripple in your Graham Crumble Cheesecake ice cream?  Yes!  We do it all! Here is a snapshot of our personal favorites:
Salted Caramel
Pear Plum
Mixed Berry Blend
Key Lime
Chocolate Fudge
Chocolate Stout
White Fudge
Birthday Cake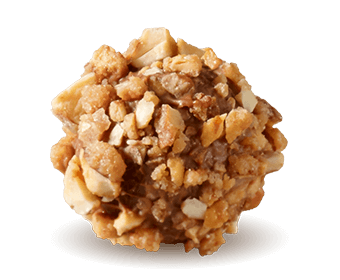 Let us be Your Secret Ingredient.
Let us develop custom-made inclusions just for you. Inquire here and one of our team members will be in touch with you shortly; we look forward to creating something extraordinary together!