Snickerdoodle French Toast
If asked what my favorite meal is, I must go with the "most important meal of the day," breakfast! It may not be the most elegant meal most of the time, but there's something special about stuffing your face with buttery, syrupy pancakes, fluffy scrambled eggs, crispy bacon, and of course a perfectly ratioed mimosa to wash it all down.
A guilty pleasure of mine has always been my mother's perfectly fried French toast.½ inch thick Pullman loaf, soaked in fresh eggs, vanilla extract and canned cream, then dropped in hot oil… man, did the aroma and bubbles on the sides of that bread makes your tastebuds dance. I'd put my mother's French Toast up against the fanciest brunches in the world. It really is personal, and all about the memory.
What better way to enhance mom's already perfect breakfast food than adding Pecan Deluxe toppings? Pecan Deluxe prepares the most delicious cookie pieces and the Snickerdoodle cookie piece is no exception. When I created this Snickerdoodle French toast, I upped the anti with a freshly cut brioche pullman loaf, then combined traditional fresh eggs, canned cream, ground cinnamon, ground cardamom, and vanilla extract, and gently soaked the brioche slice on each side then coated it in our Snickerdoodle Cookie pieces. After a light pressing, I fried these little delights to a golden perfection and topped them with a sprinkle of more Snickerdoodle crumble.
The French toast was beyond amazing, and a fabulous new addition to the Culinary library of awesome. Craving to make these little slices of heaven?  In the words of my mother, "come and get it!" Cheers. -Chef Kami
Snickerdoodle French Toast
Yield:  4 slices
4 slices Presliced Brioche Pullman Loaf, or regular pullman
2 each Fresh eggs
1 tsp Vanilla extract
½ tsp Ground Cinnamon
¼ tsp Ground Cardamom
½ cup Canned Evaporated Cream
Canola Oil as needed
Mascerated Berries
In a bowl, combine sliced strawberries and any other choice of berry with ½ ounce of brandy and 2 tbsp white sugar and mix to combine.  Overwrap the bowl and store in refrigerator until service. 
Chantilly Cream
In a bowl, pour 1 pint heavy cream, 1 tsp vanilla extract, 2 tsp lemon zest, and 2tbps white sugar and whip to soft peak or desired consistency.  Store in refrigerator until service.
Method
In a medium size sauce pan on medium heat, allow the oil to heat up completely. Test the oil by dropping a small piece of snickerdoodle cookie or egg mixture and the oil should immediately bubble.
Pour the Pecan Deluxe Snickerdoodle Cookie pieces in a shallow container. Set aside.
In a small mixing bowl combine eggs, vanilla extract, ground spices, and canned cream; whisk to combine.
Dip one slice of pullman sliced loaf in egg mixture. Let soak for 10 seconds, then flip to other side; soak for 10 seconds. 
Gently lift the soaked pullman loaf and lay in the PD Snickerdoodle Cookie pieces and press onto cookies; flip the loaf and press the cookies on the other side. 
Immediately lift the loaf and lay in the prepared heated oil.  Fry 2 minutes on each side, or to desired color.
Repeat until all slices of pullman are coated and fully fried.
Plating French Toast
Stack two slices of French toast in desired plate, top with macerated berries and Chantilly cream.
Serve with warmed maple syrup and butter as desired!
Enjoy!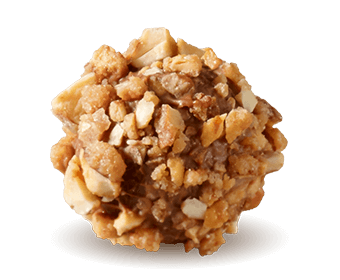 Let us be Your Secret Ingredient.
Let us develop custom-made inclusions just for you. Inquire here and one of our team members will be in touch with you shortly; we look forward to creating something extraordinary together!