Sprinkle School
Sprinkles are a fan favorite for adding color, texture and flavor to your favorite culinary creations! Often associated with celebration, they can be used on cakes, cupcakes, ice cream and many other desserts. 
The type of sprinkle you choose for your project can make a huge difference in the visual aesthetic, texture outcome and taste. There are many different types of sprinkles available, from traditional jimmies and nonpareils to confetti or sequin sprinkles. At Pecan Deluxe our "sprinkles" are a grained off sugar sprinkle that can be custom developed to meet desired color and flavor. Keep reading to learn the ins and outs of each type of sprinkle!

Jimmies
Jimmies are tiny rods of sugar, that come in endless color combinations! These are a great option for decorative cakes and cupcakes, and are often used on ice cream sundaes or parfaits. They come in a variety of colors and sizes. These types of sprinkles are also referred to as sugar sprinkles or "hundreds and thousands."
Nonpareils
These sprinkles are made up of tiny balls that resemble little pearls — hence the name "nonpareils." They are made from sugar, often with some starch and color added. Nonpareil sprinkles are commonly used to decorate cakes, cookies, and other baked goods. They come in a variety of colors and sizes, and can be used alone or combined with other decorations like frosting swirls. The small size of nonpareils makes them ideal for creating intricate designs on cakes, such as polka dots or stripes on wedding cakes. 
Confetti Sprinkles
Confetti sprinkles are another type of sugar sprinkle that is round and flat and often called "sequins" because visually that is what they resemble. They are often used to decorate cookies, cakes, cupcakes or even brownies, really any baked good where confetti may be appropriate!
Pecan Deluxe SPRINKLES
The "sprinkles" manufactured by Pecan Deluxe differ from the other bakery sprinkles discussed previously as they are not uniform in shape, rather a grained off sugar that can be customized to fit each unique application. They have a softer crunch than other sprinkles and are commonly used in confectionery applications, or to top donuts, cookies and other baked goods, as they are bake stable, too. Beverage toppings are becoming increasingly popular as well.  Think of the possibilities for frozen dessert beverages, hot coffees, frozen coffees and cold foam as well.
The color and flavor options of our sprinkles are endless. They are perfect for use in commercial bakeries, confectionery plants, and quick service restaurants to elevate the eating experience by providing texture, improving visual appeal by adding color and dimension, and layering flavor to deliver a more robust finished product. Promoting ordinary to extraordinary is exactly what we like to do here at Pecan Deluxe Candy Company.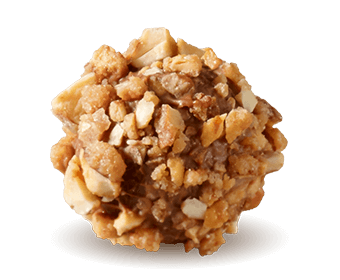 Let us be Your Secret Ingredient.
Let us develop custom-made inclusions just for you. Inquire here and one of our team members will be in touch with you shortly; we look forward to creating something extraordinary together!