The Dessert Cheeseboard
When you hear the term 'cheese board,' the image of a decadent and artistically designed long wooden board housing the perfect marriage of sliced cheeses, compotes, honeycomb, pickled vegetables, candied nuts, and dried meats come to mind. The combinations are endless and the conversations surrounding the beautiful bites are always just as tasty. We were inspired by this idea of choosing fun combinations of sweet and salty goods, so off to the kitchen we went! We wanted to form a new type of cheese board—one that was built around a freshly baked CHEESE-cake! This cheesecake is filled with Pecan Deluxe inclusions and left crustless for easy dipping or smearing on a shortbread cookie or tuile. We are excited to share our new ideas with you in hopes it may spark a creative new dessert for your menu or for your party. Keep us posted on your ideas as we are positive we can help with the sweet and salty bites that made our boards so delicious! Enjoy!
Building the Board
Slice the chilled cheesecake into preferred slices. We sliced ours in 6 equal pieces.  
Place slices upright or on side on a fun wooden board and artistically add beautiful combinations of fruits, sweet and buttery shortbread cookies, as well as Pecan Deluxe sweet and salty items.  Here's a list of what we used on each dessert cheese board
Strawberry Shortcake Board
Brownie Flake Board
Method
Heat oven to 300F
In a food processor, or using a hand mixer, place cream cheese, vanilla extract, ricotta and sugar in a bowl and mix until well combined. Scrape sides.  Mix additional 10 seconds.
Add eggs, lemon juice, zest and mix for 30 seconds. Add flour and salt and mix 30 seconds.  Scrape bowl well and mix 10 seconds. Batter is ready.
Grease the springform pan and pour the PD pieces in the base of pan.  
*We made two different batters, so if you want to make the Brownie Fudge Flake batter, pour the brownie pieces in the base of the springform, then add the fudge flakes to the batter and mix gently, then pour over the brownie pieces in the pan. Or, you can also prepare the Strawberry Crunch Cheesecake instead by placing the pie chips in the base of the springform pan, then mixing the PD Strawberry Cake Crunch in the batter, gently mixing then pouring over the pie chips. Both cheesecake flavors are amazing and once sliced, resemble a White Stilton cheese look.  
Place the springform pan onto the baking sheet and place in the center of the oven. Bake one hour.  After one hour, lower the oven temperature to 290F. Bake additional hour. Check the temperature of the cheesecake. If thermometer is between 160-170F, remove the cheesecakes. If not, leave in additional 20 minutes, then check.  When temperature is reached, remove from the oven and allow to cool at room temp for 2 hours. Place in refrigerator overnight.  
Next day, remove the springform frame and gently remove the cheesecake from the base and place on a cake board. Slice the cheesecake using a hot, wet knife into 12 slices (or your personal preference).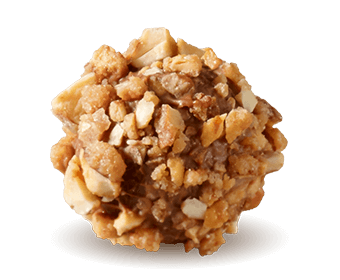 Let us be Your Secret Ingredient.
Let us develop custom-made inclusions just for you. Inquire here and one of our team members will be in touch with you shortly; we look forward to creating something extraordinary together!