The Tea on Bubble Tea
From boutique boba shops to large tea chains opening in cities all around us, there is no denying the increased popularity of bubble tea and there are no shortage of possibilities to satisfy your cravings. However, with so many options, it can be a bit overwhelming stepping into a Bubble Tea Shop for the first time. Utilizing items most commonly found on the menus, we've compiled  a few pointers to help you create a beverage that would impress a Bubble Tea connoisseur. 
Popular Bubble Tea Spots in the DFW Metroplex
Feng Cha – Multiple Locations
Craft Boba Tea – Upper Greenville
Kung Fu Tea – Multiple Locations
Royal IT Café – Lake Highlands
Bobaddiction – North Richland Hills
Gong Cha-Multiple Locations
Fat Straws – Multiple Locations
Dottea Bubble Tea and Coffee – North Dallas
9 Rabbits Bakery – North Dallas
Bubble Bubble Tea House – Rockwall
ShareTea – Multiple Locations
How to Order:
1. Choose a Tea:
Black, Green or Oolong
2. Like it Creamy? Choose a Creamer:
Milk, Nondairy Creamer, Alternative Milks (soy & almond, more recently oat and coconut)
3. Like it Fruity? Choose a Juice Base:
Some shops use fruit juices while others use a fruit and water mix
4. Then there are Toppings…
My goodness the choices! Let's review a few of the more common options:
Aiyu Jelly– Aiyu jelly is a jelly made from agar-agar, which is a gelatinous substance derived from algae.
Fruity Jelly or Boba Jelly– The most common toppings are fruity gels, which come in a variety of flavors. These are often made from corn syrup, artificial colors and flavors, and food coloring. They're also commonly made with gelatin.
Red Bean– Red Bean is made from adzuki beans, which are small, dark red beans. They are a popular ingredient in Japanese sweets, including mochi and desserts like ice cream. Red bean is said to be high in protein and thus a good option if you are looking for a boost in protein.
Aloe Vera– Aloe vera is a popular topping for bubble tea because it supposedly provides health benefits for those who drink it. For example, it is said to have anti-inflammatory properties and to even help clear up acne. Aloe vera contains antioxidants and enzymes that can help promote skin healing and cell regeneration.
Cheese Foam– One topping that's becoming more popular is cheese foam; it consists of cream cheese mixed with water or milk and then aerated until it turns into a light foam. It is typically chosen because it's rich, creamy and full of flavor and because it pairs beautifully with fruity flavors.
Tapioca Boba– Tapioca pearls or boba (also called "pearls") are small balls of starch that are cooked to a gel-like consistency. Tapioca pearls are usually made from cassava root flour or sweet potato starch (tapioca). They can be found in different colors like white, black and red but most often are black. 
Popping Boba– The most common way to enjoy bubble tea is with the addition of boba. Popping boba (alternatively called, bursting boba, popping pearls, or bursting bubbles) are also spherical in shape but provide an entirely different experience and mouthfeel than traditional tapioca boba. These bursting bobas are created by a chemical reaction called spherification. They contain liquid (most commonly a fruit juice) encapsulated in a gel-like skin made of sodium alginate.  These little balls of fun provide a tiny explosion of flavor to heighten your beverage experiences. Check out Pecan Deluxe Popping Boba here! 
Grass Jelly– Grass jelly is a green gelatin made from the grass, Javanica. It's sweet, with a texture similar to jello and a mild taste similar to cucumber. Grass jelly originated in Taiwan and can be found at many bubble tea shops and restaurants.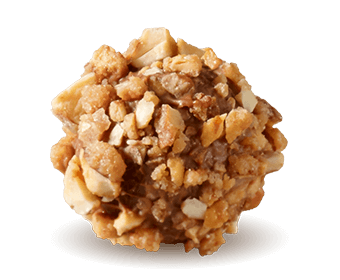 Let us be Your Secret Ingredient.
Let us develop custom-made inclusions just for you. Inquire here and one of our team members will be in touch with you shortly; we look forward to creating something extraordinary together!