Top of the Mornin' to Ya!
Hardy Bowls
As we look at the work week, and busy weekends, our schedules demand quick and easy meals, and ones that provide quick energy, delicious protein options, and provide nutrition for the day.  The growth of yogurt and adding many crunchy and smooth options to it are endless, and we have loved creating a full selection of these delicious and bountiful bowls.  There's also another ever-growing option—the Overnight Oats.  We love how time is on our side!  How simple it is to mix the oats, milk, and spices together to have a perfectly soaked porridge in the morning to enjoy!  Pecan Deluxe produces numerous inclusions, many of those include baked granola clusters that are dusted in cocoa powder, coated in flavored yogurt toppings.  We hold our standards high as we produce protein-rich items that enhance the body, not just provide sweetness.  Check out some of our fun applications!
Hardy Bowl Ideas
Dish your favorite yogurt in a serving bowl and top with sliced berries, roasted nuts and top with Pecan Deluxe Cocoa Dusted Granola
In small bowl combine 1 cup of oats, and 1 cup of your choice of milk (we used almond milk), plus ½ tsp ground cinnamon.  Cover the bowl and place in the refrigerator overnight.   Pull the oats out in the morning and top with sliced bananas, berries, and top with Pecan Deluxe Yogurt Coated Granola, or use the Strawberry Coated Granola.  Enjoy!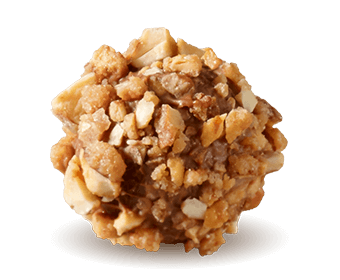 Let us be Your Secret Ingredient.
Let us develop custom-made inclusions just for you. Inquire here and one of our team members will be in touch with you shortly; we look forward to creating something extraordinary together!