Triple Chocolate Vegan Muffins
Ingredients
1 ¼ cups all-purpose flour
¾ cup white sugar
½ cup cocoa powder
2 teaspoons baking powder
½ teaspoon salt
1 cup plant-based milk (such as soy or almond)
½ cup light oil (such as canola or vegetable)
1 tablespoon apple cider vinegar
1 cup vegan chocolate chips
1 cup PDCC Vegan Friendly Brownie Brittle
Instructions
Preheat your oven to 400F. Lightly grease a 12 well muffin pan. For larger sized muffins, grease only 9 wells of a muffin pan.
In a large bowl whisk together the flour, sugar, cocoa powder, baking powder, instant espresso powder and salt. Then add the plant-based milk, light oil, and apple cider vinegar and stir until just combined. Don't over mix! Now gently fold in the chocolate chips.
Divide the batter evenly among the 12 or 9 wells of the prepared muffin pan. Sprinkle the PDCC Vegan Friendly Brownie Brittle on the top of each muffin. Bake 21 to 25 minutes or until a toothpick inserted into the center comes out clean. *Test several spots with the toothpick as you may hit a melted chocolate chip which could mislead you into thinking they aren't cooked. Let the muffins cool in the pan before removing.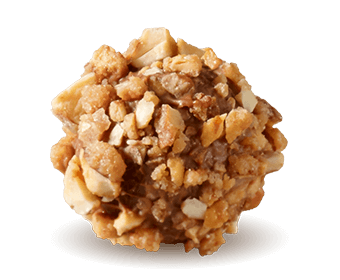 Let us be Your Secret Ingredient.
Let us develop custom-made inclusions just for you. Inquire here and one of our team members will be in touch with you shortly; we look forward to creating something extraordinary together!