Triple Threat Cheesecake
I love the descriptor term, "Triple Threat," which refers to a talented individual who can dance, sing and act.  The idea behind the triple means there are multiple opportunities to be of use, to showcase ones talent, and hopefully, have a longer lifespan in the world of entertainment.
Tis true in our world here at Pecan Deluxe Candy.  We are busy producing multiple products every day in our plants, here in the United States, as well as abroad in England and Thailand.  Our vast selection of candies and baked inclusions can be used in so many different and unique ways, like, for example, I produced a vanilla ricotta cheesecake with a brown sugar chocolate graham crust.  In the batter I mixed in some of our favorites…extruded Truffle Pieces, baked Brownie Pieces, and Fudge Choco Chunks.  Cheesecake dessert is classic and beloved by so many.  This cheesecake is smooth, slight citric note from lemon rind, sweet yet tart, and the crunchy crust is just perfection, but when we added the three chocolate inclusions—this truly took a classic ordinary cheesecake to extraordinary!
We may not be dancers, singers, or actors at Pecan Deluxe, but we are certainly experts in the field of bakery, confectionary, and bases/ sauces.  Let us help you create menus and specialty desserts that have that triple threat effect— we promise your customers will be happy and may even do a little happy dance!
Cheers,
Kami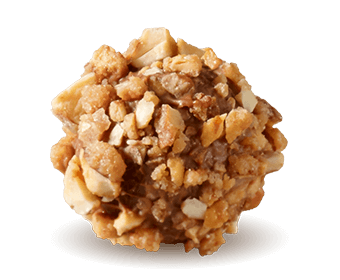 Let us be Your Secret Ingredient.
Let us develop custom-made inclusions just for you. Inquire here and one of our team members will be in touch with you shortly; we look forward to creating something extraordinary together!