Whatcha Got Cookie'n
Whether you like them with chocolate chips, nuts or perhaps a new, never before seen ingredient to create the most delicious fantastical flavor you're imagining, we can help you out. We've gathered together a few of our popular ingredients to help inspire your next cookie creation! Folded in, baked in, or adorning the top, whatever your dreaming, we can TOP IT! Whether it's for snack time or dessert, this cookie inspiration may cause mental time travel, but is certain to satisfy every sweet tooth!
Maybe it's the smell of a freshly baked batch of Oatmeal Raisin cookies straight from Grandma's oven, or perhaps, the recollection of the chocolate chip cookie dough mom allowed you to enjoy as she scooped out the heaping mounds onto the baking sheet to slip into the oven. Regardless of the memory that evokes the pleasant emotions associated with cookies there is no denying, we love cookies! And as the numbers would prove, we are not alone! Second only to cake as the most popularly menued dessert variety, cookies are found on 41.6% of restaurant menus in the US (per Datassential). Check out the scoop on cookies below!
For more cookie inclusion inspiration check out our bakestable ingredient page!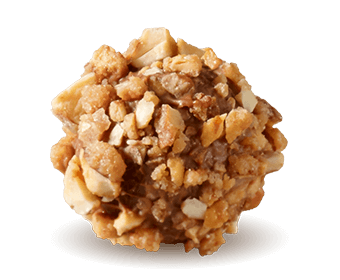 Let us be Your Secret Ingredient.
Let us develop custom-made inclusions just for you. Inquire here and one of our team members will be in touch with you shortly; we look forward to creating something extraordinary together!