A Different take on Dairy Flavors
June 22, 2022
"The development and inclusion of novel ingredients in dairy products are adding spice to a typically conventional category. By combining new taste and functional elements in selections, processors are in position to transform traditional offerings into more appealing options while standing out in a crowded market, analysts say.
"A differentiator could be flavor intensity and/or unique flavors or flavor pairings," says Jacob Fay, applications lab technologist for Prova Inc., a Beverly, Mass.-based provider of extracts and flavors. "There are many products that you can taste with your eyes closed and think they are unflavored, but are being called vanilla, chocolate, and more. If one can achieve an authentic flavor profile that truly tastes like its namesake, that will really take it to the next level." 
Items that provide multi-sensory experiences can be huge differentiators as well, says Smokey Waters, director of culinary for Pecan Deluxe Candy Co., a Dallas-based ingredient provider. He notes, for instance, that popping boba provides a popping sensation with a burst of flavor, while a popping candy cluster candy can create a flavor pop, crunch, and fizzy sensation in dairy selections.
"These types of products allow you to play with mainstream flavors in a format that is not fudge chunks and ribbons and allows you to really set yourself apart from the pack," Waters states. In addition, the use of savory elements, including salt, smoke, black pepper, and bourbon, can add "much-needed life to traditional flavors," he says."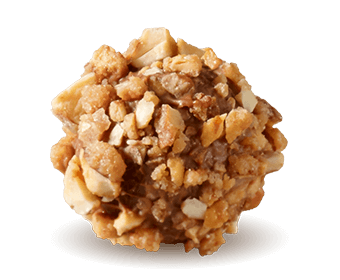 Let us be Your Secret Ingredient.
Let us develop custom-made inclusions just for you. Inquire here and one of our team members will be in touch with you shortly; we look forward to creating something extraordinary together!