Fruits and Nuts Deliver Powerhouse Punch
February 15, 2023
"Mixed berries and blueberries, rich in flavonoids and antioxidants, are trending in the dairy and dairy-alternative space as consumers continue to demand functional ingredients," she continues. "As dairy and dairy-alternative categories continue to innovate — such as artisan butters and nutrient-rich beverages — MicroDried is seeing a growing demand for fruit and vegetable-based inclusions."
Founded in 2012, the Nampa, Idaho-based ingredient supplier offers a range of 100% ready-to-eat whole fruit and vegetable ingredients in a variety of piece sizes — whole, diced, fragments, and powders — to help dairy developers create wholesome traditional dairy or plant-based products with a clean ingredient label, sustainability commitment, and functionality.  
As on-the-go snacking remains a top trend in the food and dairy industries, the dried fruit extracts market stands poised to capitalize. Fact.MR reports that the global dried fruit extracts market is expected to nearly double over the next 10 years, growing from $8.9 billion in 2022 to $15.8 billion by 2032. Over the 2022-2032 forecast period, growth is anticipated to accelerate at a compound annual growth rate (CAGR) of 5.9%, the market research firm says…
Citing Innova Market Insights, Tara Gonzales, who works in marketing at Pecan Deluxe Candy Co., notes that brown flavors are No. 1 in desserts and ice cream, comprising 43.3% of new category launches, followed by fruit flavors, which climbed 3 percentage points over 2021 to nearly 31% of new product development. Nuts, at 6.3%, ranked No. 5 in new category ice cream and dessert launches."
Read the full article here.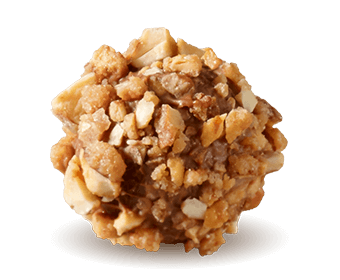 Let us be Your Secret Ingredient.
Let us develop custom-made inclusions just for you. Inquire here and one of our team members will be in touch with you shortly; we look forward to creating something extraordinary together!