Ingredient Technologies- More Than Extras
March 04, 2022
Inclusions — visible ingredients that add extra flavor, texture and color into a food or beverage product — have been used to jazz up dairy offerings for years. And such ingredients are set to register a 5.6% compound annual growth rate during 2021-2028, notes The Industry Partners in its "Food Inclusions Market to 2028 – Global Analysis and Forecast – by Type, Form and Application" report.
According to the New York-based market research firm, food and beverage manufacturers can use inclusions as a tool to add value or bring innovation into their existing product line, "as these ingredients can skip the step of formulating an entirely new product recipe."
So as dairy processors seek to meet evolving consumer needs, they can look to their ingredient partners to develop interesting inclusions as a lower-risk way to create new products. Parker Food Group (PFG), for example, uses its research on four "macro trends" influencing the food and beverage industry when developing "on-trend flavor concepts" for the segments it services, explains John Pimpo, marketing director for the Fort Worth, Texas-based company.
These macro trends include "permissible indulgence, eating experience for the consumer, the informed consumer and lifestyle choices," he says.
According to Corinne Kowald, product developer for Pecan Deluxe Candy Co., Dallas, processors also are paying attention to trends such as sugar reduction and increased protein when selecting inclusions.
"Consumer trends are constantly driving us to innovate," she adds.
Read the full article here.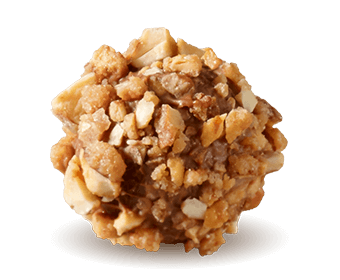 Let us be Your Secret Ingredient.
Let us develop custom-made inclusions just for you. Inquire here and one of our team members will be in touch with you shortly; we look forward to creating something extraordinary together!