Jay Brigham – Pecan Deluxe Candy Company
Innovation and customization: a candy company's secret ingredients
September 06, 2022
A sprinkle of praline caramel pecans atop a scoop of fresh strawberry ice cream can strike the perfect balance between salty and sweet, crunchy and smooth, on a hot summer's day—or even a chilly winter's one.
J.C. Brigham had the same idea over 70 years ago when he started making not only ice cream, but also candy to enhance the frozen treat. In 1950, he opened Pecan Deluxe Candy Company in Dallas, Texas, and started selling some of his ingredients to other ice cream companies—a business that quickly grew.
In 1965, Bennie Brigham assumed leadership from his father J.C. Brigham. By the mid 1980s, what started as a side venture was thriving to such an extent that Pecan Deluxe sold its retail ice cream shops to focus on becoming an ice cream inclusion manufacturer and supplier in the U.S. The original products included hard candies and praline nut meats.
In 2000, Pecan Deluxe expanded internationally with the purchase of the Harriet Websters plant in England. In 2008, J.C. Brigham's grandson, Jay Brigham, became president and not only expanded the capabilities of the U.S. manufacturing plant in 2014, but expanded operations into Thailand.
"We're always looking for innovation and meeting customer needs with new product offerings," says Brigham.
Popping into the future 
On April 14, 2021, Pecan Deluxe released its latest product, Popping Boba. These juice-filled pearls add a burst of flavor and fun to foods and beverages. Though they're different from the classic tapioca boba—a gel-like shell of sodium alginate encapsulates the juice that pops when you bite it—they have a similar application in everything from frozen yogurt to salads.
The bubble tea market, which popularized boba, is currently a multi-billion-dollar industry. Based on market data, Brigham anticipates the boba industry will increase significantly over the next several years…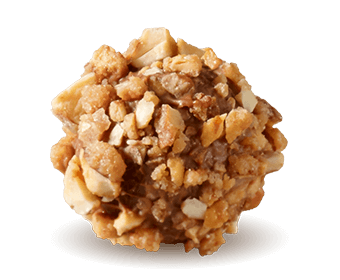 Let us be Your Secret Ingredient.
Let us develop custom-made inclusions just for you. Inquire here and one of our team members will be in touch with you shortly; we look forward to creating something extraordinary together!