Pecan Deluxe Candy Company Expands US Product Line with Popping Boba for Food and Beverage Applications
April 14, 2021
Dallas, Texas—April 14, 2021—Pecan Deluxe Candy Company expands their product offerings with the launch of Popping Boba. "This addition to our current capabilities positions us to be the first fully-operational manufacturer of this popping boba product in the United States, which we are very excited about" says Jay Brigham, President and CEO of Pecan Deluxe.
What are popping boba? Tiny, juice filled spheres, encapsulated in an edible shell that burst with flavor.  These groundbreaking inclusions are featured in nearly every yogurt chain and bubble tea shop and have recently found their way into a variety of desserts and beverages, providing a fresh new aesthetic and fun experience that consumers are craving. Traditionally available in a range of fruit flavors, Pecan Deluxe Candy Company has expanded flavor offerings and will continue innovation to further develop this new platform for a wide array of food and beverage applications.
The popping boba product is manufactured in the newly expanded facility located at 2570 Lone Star Drive, Dallas, Texas, 75212. Committed to the manufacturing of ingredients for the food and beverage industry, the new 55,000 square foot facility marks another major investment for Pecan Deluxe. This expansion increases current production capabilities and warehouse space and improves the current operational workflow.
Read the full article here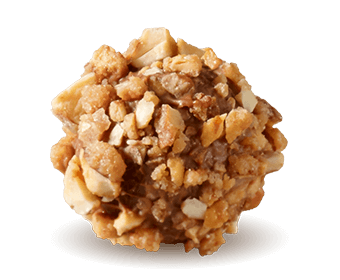 Let us be Your Secret Ingredient.
Let us develop custom-made inclusions just for you. Inquire here and one of our team members will be in touch with you shortly; we look forward to creating something extraordinary together!