Pecan Deluxe Candy Company won the 2021 Food Quality & Safety large business award
January 21, 2022
The owner of Pecan Deluxe Candy Company, Jay Brigham, likes to say, "We're not just nuts." The tagline is borne out of the pandemic, when the company found eager homebound buyers for ice cream and other products containing its brownie and ready-to-eat cookie dough add-in ingredients and toppings. In fact, nuts are a small percentage of the company's overall business. The family-owned, international food supplier was named winner of the prestigious 2021 Food Quality & Safety award for large businesses. The award, presented annually by Food Quality & Safety, honors the dedication and achievement of organizations that make significant contributions to uphold the highest food standards
supported by quantifiable results. This year, our judging panel of food industry safety experts determined that Pecan Deluxe Candy Co. demonstrated a comprehensive food safety and quality management program that included a robust focus on advanced technology and training and an additional strong food safety culture.
Read the full article here.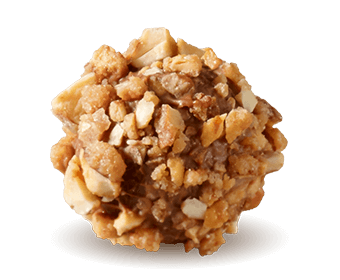 Let us be Your Secret Ingredient.
Let us develop custom-made inclusions just for you. Inquire here and one of our team members will be in touch with you shortly; we look forward to creating something extraordinary together!