The Three V's of Popping Boba
August 15, 2022
Popping boba and the 3 V's to VALIDATE what is it about these fun, juice filled spheres that people love so much.
1. Versatility of Use in Limitless Applications
Most often utilized in beverage applications such as milk teas and smoothies in bubble tea shops, this juice filled sphere is popping up in froyo shops and easily becoming a favorite topping due to the exciting experience it creates for consumers. Referred to by various names such as popping bubbles, bursting bubbles, and popping pearls they have recently burst onto the scene of some of your favorite fast-food restaurants and donut shops where you can add them to your favorite soda or dessert type beverages. Though most common, beverage applications merely scratch the surface of opportunities to use popping boba. Truthfully, the possibilities are endless, and we are only bound by our own imaginations. Fish tacos, salads, hummus, and acai bowls have been some of our favorite ways to enjoy the popping sensations. However, don't rule out the less obvious choices of using the popping boba in bubble waffles and hot beverages, too.
2. Variety of Flavors
The vast flavor options paired with the versatility of popping boba are like adding two super cool new tools to a child's sandbox. Oh, the possibilities. But, what are consumers "favorite" flavors of popping boba? Pecan Deluxe recently partnered with Attest to survey 500 American consumers to learn more about flavor preferences of these popping pearls and here is the tea:
When asked more guided questions regarding flavors for specific applications these flavors came out on top:
As these innovative little balls move along the Menu Adoption Cycle from the adoption stage on to the proliferation stage, or mainstream appeal, we are prepared to facilitate requests for more unique flavors including savory and even umami. Teriyaki, balsamic, vinaigrettes and pickled flavors are just a few examples of flavors we see coming as this trend continues to grow. 
3. Visual Appeal
In the food and beverage space, competition is stiff and differentiation is key. It is not only important to have something that is visually appealing with an intriguing presentation but something that is delicious and keeps consumers returning for repeat purchases. It is commonplace to visit social media and navigate through photos of the latest culinary creations on profiles before ever perusing a menu or stepping foot into a restaurant to dine or grabbing the latest gastronomic great from the shelves of your local grocer. Unique presentations, whether that be something colorful, or an unsuspected garnish/decoration, a creative cup or edible bowl, any food or drink that is aesthetically pleasing are the menu items that make consumers want to click and share. Popping boba is colorful, trendy and delicious so it meets all the criteria for your next Instagram-worthy masterpiece.
The sensory experience of popping boba is just part of the excitement. The ability to combine flavors when adding popping boba to food and beverage choices allows consumers a creative outlet to try something different and create a new story to share with the world.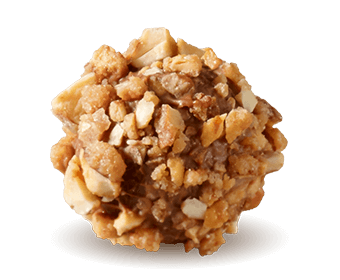 Let us be Your Secret Ingredient.
Let us develop custom-made inclusions just for you. Inquire here and one of our team members will be in touch with you shortly; we look forward to creating something extraordinary together!