Top 10 Recommended QSR Products
August 30, 2022
Pecan Deluxe has been in the business of making the world a sweeter place for more than 70 years now. Our extensive expertise and experience have many looking to us for recommendations on what's new, exciting and of course what's trending in restaurant space. This is why we put together a list of the Top 10 recommended items for QSR operators. It may not come as a surprise that 8/10 of our recommended items for QSR's are applicable to frozen dessert beverage concepts. While agreed, plain milkshakes are a fantastic treat, nothing elevates a milkshake like a good flavor base and mix-in. Something about the layers of flavors and additional texture just makes a loaded milkshake far superior.

However, don't overlook the opportunity to elevate other menu parts as well. A granola is a fantastic option as it is super versatile and can be used in breakfast bowls, salads, parfaits, baked goods and desserts. Not quite on our TOP 10 list but following close behind would be pralined nut meats and seeds and seasoned pie chips for a variety of applications.

Lastly, a newer trend that is making huge headway is popping boba.  While most often utilized in a beverage, be it iced or slushy, there are a plethora of food applications that are just waiting to amp up the flavor and provide an 'eat'ertaining experience.  One of our favorite recipes included fish tacos, finished with mango flavored popping boba.
Without further adieu, (in no particular) our Top 10 recommended items for QSR's are:

1. Baked Brownie
2. Chocolate Sauce
3. Cookie Dough
4. Fudge Chunks
5. Sweet Candy Base
6. Hard Candy Bark
7. Popping Boba
8. Caramel Sauce
9. Fruit Prep
10. Granola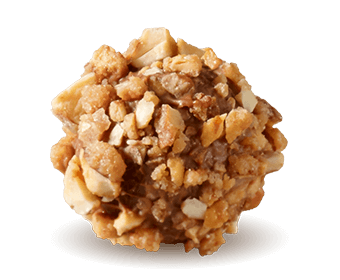 Let us be Your Secret Ingredient.
Let us develop custom-made inclusions just for you. Inquire here and one of our team members will be in touch with you shortly; we look forward to creating something extraordinary together!