We Popped off at the 2022 National Restaurant Show!
June 02, 2022
The whole team at Pecan Deluxe Candy Company was thrilled to exhibit at the 2022 National Restaurant Association Show last week where we once again featured our spectacularly colorful and dynamic booth which pays homage to our history as an ice cream scoop shop! We loved showcasing our fun candy world and getting the chance to connect with customers and attendees, face-to-face, in the F&B world. Moreover, we were over the moon about featuring our newest product line—POPPING BOBA!!!!
Our strawberry, mango, and blueberry popping boba were the highlight of the show! We featured our precious little pearls of juice in cups of unsweetened iced tea, accompanied by fun, colorful boba straws. We were pleased with the number of people who came to experience and learn about these little sweet bursts of flavor. We enjoyed many people's reaction as they had an opportunity to experience popping boba for the first time.
In addition to our excitement around exhibiting at the National Restaurant Show, we also loved getting the chance to check out some of the other burgeoning trends in the F&B world. As we've seen exponential growth in the last decade, plant-based and free-from items we're a hit at the show. From new start-ups to brand giants, it seemed everyone had a new take or twist on an old favorite in the dietary requirement category.
The other trend we noted at the show was the growth of the alcohol-free or mocktail category. Whether you chalk it up to society's increased health consciousness or the universal love of the "instagram-able" beverage, it seems more and more people are looking for a fun drink option that's free from the ABV.
Ultimately, the Pecan Deluxe Team had a blast at the National Restaurant Show. We can't wait to help more customers take the ordinary and making it extraordinary, especially with our Popping Boba.  We are proud, excited, and bursting with ideas to help! So reach out and let's work on your ideas together!  
Cheers!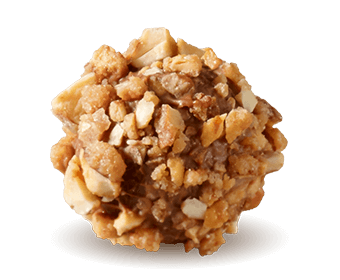 Let us be Your Secret Ingredient.
Let us develop custom-made inclusions just for you. Inquire here and one of our team members will be in touch with you shortly; we look forward to creating something extraordinary together!