We Popped off at the 2022 National Restaurant Show!
June 01, 2023
Pecan Deluxe once again had the pleasure of exhibiting at the National Restaurant Show last weekend. The Show hosted nearly 55,000 foodservice professionals and an impressive lineup of more than 2,100 manufacturers and suppliers. "The National Restaurant Association Show concluded its 2023 edition as the undisputed epicenter of the foodservice industry," said Tom Cindric, President of Winsight Exhibitions.
At the 2023 show Pecan Deluxe expanded from last year's focus on introducing people to our popping boba, to showcasing a selection of products from all of our product categories. Show visitors were able to sample their selection of our products atop a soft serve vanilla ice cream. After all, what better way to showcase our products, as well as pay homage to Pecan Deluxe's history, starting out as a traditional scoop shop in the 1940's.
Some of the most notable favorites at the show amongst our products included our Chocolate Cookie Crunch Ribbon, our Crackling Cookie Dough, and of course our Popping Boba! Visitors were delighted by the texture in the Chocolate Cookie Crunch Ribbon and excited to see that we are able to package our sauces and variegates in convenient Cryovac FlexPrepÔ Packaging. We displayed this packaging at the show along with a compatible singe serve portion dispenser gun. We were thrilled to show operators how this system could speed up operations and produce less waste with consistent portioning.
Our Cracking Cookie Dough was a brand-new innovation created for the show. We blended popping candy inside cookie dough to put a twist on a beloved classic. As always, our Popping Boba was a huge hit both with boba aficionados, as well as boba novices who got to experience the pop of flavor for the first time!
In addition to introducing people to the depth and breadth of Pecan Deluxe's product offerings, our team was excited to take in some of the bubbling trends in the restaurant space. As has been the case for some time, plant-based products continue to innovate and expand in the market. Additionally, in the beverage space, CBD-infused and other alcohol-free, "feel-good" cocktails seemed to be making a splash.
After four days of connecting with new faces, communing with old friends, and serving lots of ice cream, we are happy to call the National Restaurant Show a huge success! Whether you got to meet us at the show, or if you missed us, head over to the contact page and request a sample of some of the items we showcased! Or, have an idea for something custom? Let us know!
Be sure to subscribe to the Pecan Deluxe newsletter to learn about our latest and greatest innovations!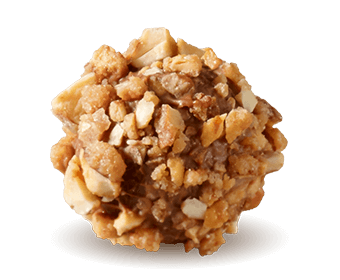 Let us be Your Secret Ingredient.
Let us develop custom-made inclusions just for you. Inquire here and one of our team members will be in touch with you shortly; we look forward to creating something extraordinary together!