Dairy Industries- Ingredient Focus
November 01, 2021
As yogurts get more complex, consumers want both indulgence and functionality, while feeling healthy. Here, several colleagues from Pecan Deluxe Candy, an inclusions company, discuss what trends can be expected in yogurt inclusions with Dairy Industries International.
Q. What trends are you seeing for inclusions in the yogurt sector?
Kami Smith, director of culinary showcasing, Pecan Deluxe Candy Company: The yogurt industry has morphed and changed considerably within the past six years. We've witnessed all new textures, varieties, cleaner ingredient labels, exotic and indulgent dessert flavours, and even more appealing packaging. Yogurt is no longer just for the elementary student's lunchbox, it's now become posh and essential to almost every person who steps into a grocery, drug, and convenience store, and even speciality markets. Yogurts in today's world (Greek) are high in protein, lean in fat (also non-saturated), low in sugar, and create a snack space that is considered valuable, healthy, and satisfying, so no wonder the yogurt sector is ever-growing and gaining more traction with all demographics of the world. One of the biggest trends we see is yogurt is no longer plain with overly sweet fruits, or fruit toppings. We see a complete about-face on the deliverable flavour zest, like candy bar, carrot cake, peanut butter indulgences, and even apple pie. Once a dessert-like yogurt was created, the new flavours became endless. It's not just the flavour of yogurt that has changed, it's the adding of crunch and textures to keep the excitement alive. We no longer want to be restricted in how we enjoy our yogurts. Now it has a space in the sustainable health, dessert, and a fun school pastime.
Read the full article here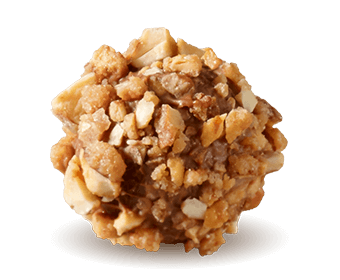 Let us be Your Secret Ingredient.
Let us develop custom-made inclusions just for you. Inquire here and one of our team members will be in touch with you shortly; we look forward to creating something extraordinary together!