Why Work in Food Manufacturing?
October 06, 2022
There are countless reasons to love a job in the food-industry, especially in food manufacturing. Whether you are producing product on a line in the plant, dreaming up new concepts with the culinary innovation team, running a customer service department or engineering new equipment to assist with automation and efficiencies, a common thread you'll find in the food industry is…FUN! 
An opportunity to be on the forefront of trends that haven't made it to the marketplace yet is endlessly exciting! Watching those real, tangible products make their way to store shelves or your favorite restaurants never stops being rewarding.
The food manufacturing industry is ever changing, moving at lightning speed requiring passionate, enthusiastic individuals who are willing to share new innovative ideas and concepts, and find solutions to implement those ideas throughout the business.
So, besides being a fun, rewarding, fast paced environment, why should you consider a career in food manufacturing?
Personal and Career Growth 
Another great reason for working in the food manufacturing industry is the growth you will experience both personally and in your career. Just as food companies work to build their brands, they understand the importance of supporting employee's personal development as well. At Pecan Deluxe specifically, personal development is found through ongoing training, continued goal setting, company led volunteer opportunities and of course learning important skills that improve all areas of your life.
Transferable Skills
Being a part of the food industry provides an opportunity to learn and master a wide range of skills: communication (both written and verbal), teamwork, leadership, critical thinking, time management and problem-solving. These are all valuable skills that are transferable to any job. They can never be taken from you and are sought after by employers in every industry, everywhere.
Creative and Rewarding
Whether you are brainstorming new product ideas, constructing the equipment that will produce the product or on the customer service side taking orders from the customers purchasing the product, there is an undeniable sense of pride as you watch these idea/concepts come to fruition and enter the marketplace.
Eating is a necessity, so your job is important…essential!
Every single position is essential whether it's dealing directly with the customer in a sales capacity, developing products in R&D, scaling up a product for commercialization, ordering raw ingredients in supply chain, coordinating logistics in shipping, or actually producing the product on the manufacturing floor, your role is crucial and the business cannot run without you. It's fulfilling to know that regardless of the role you fill, ultimately you play a part in making sure people are fed.
Want To Join The World Of Food Manufacturing? 
Did this get you to thinking about how much you might enjoy a job in food manufacturing? There are a number of different positions available, maybe some you haven't even considered: desk jobs, warehouse jobs, quality assurance, chef jobs, customer service jobs, and some jobs actually making the products in the factory. Some positions include travel, meeting with suppliers or customers or perhaps manning a booth at a trade show. If any of this intrigues you or you'd like to learn more about the products we produce and the markets we service, click here to find out more.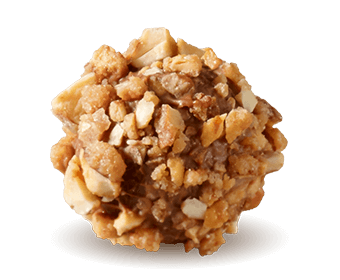 Let us be Your Secret Ingredient.
Let us develop custom-made inclusions just for you. Inquire here and one of our team members will be in touch with you shortly; we look forward to creating something extraordinary together!