Top 3 Plant Based Desserts
The majority of us are used to delicious desserts being packed full of dairy and eggs. But they don't have to be!
With a growing trend towards veganism and flexi-vegan diets, consumers are increasingly searching for permissible indulgences that can be incorporated into a plant-based lifestyle without having to compromise on taste.
Our experienced research and development team have been busy creating a range of vegan suitable recipes and we are now able to offer a wide variety of inclusions and decorations that are made without dairy or egg but still retain the delicious flavour and eating quality our consumers love. Take a look at our top three plant-based desserts, featuring inclusions from the range.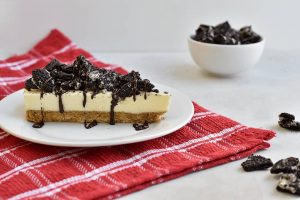 1. COOKIES AND CREAM CHEESECAKE
This classic, no-bake & dairy-free cheesecake is decorated with our cookies and cream pieces. Rich dark chocolate flavour matched with smooth vanilla notes – it's hard to believe they are suitable for vegans! Its striking appearance and crunchy biscuit texture elevate a simple dessert into an extraordinary one!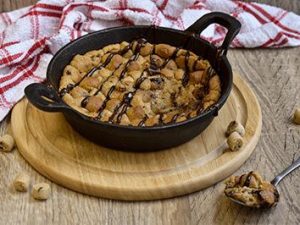 2. HOT COOKIE DOUGH DESSERT
A chocolatey, hot, gooey dessert that's vegan-diet friendly! This super trendy pud is nice and crispy on the outside with a soft, melt-in-the-mouth centre. Made with one simple ingredient – our no added egg and dairy chocolate chip cookie dough pieces!
Even more delectable when served with dairy-free chocolate sauce and ice cream.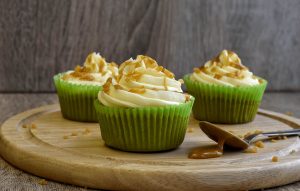 3. SALTED CARAMEL CUPCAKES
These scrumptious light and fluffy vanilla cupcakes are topped with caramel frosting and our crunchy salted caramel sugar pearls for that classic rich toffee taste with a hint of salt. Finished off with swirls of vegan salted caramel sauce. For added caramel goodness – you can even add these pearls to the batter.
Because you can never have too much salted caramel!
Let us be Your Secret Ingredient
Get in touch with our expert team. We look forward to creating something extraordinary with you.